Slow fermented bread is back on the table
A few days ago, one of our customers shared a post on sourdoughs. The article's subtitle,  "As evidence grows that slow fermented bread may be easier to digest, we look at its history and potential health benefits" had me hooked. I have recently started to experiment again with slow fermented bread doughs, partly to test the idea that they are easier to digest. Based on my experimentation (with  family and friends as testers) I think it is true.
The article covers a number of interesting aspects of bread history and concludes with an optimistic hope that as people recognize the benefits of real slow fermented breads like tradition French loaves and tart San Francisco style sourdoughs, we will see a return of community bakers. As the name implies, slow fermented bread takes time. Slow doesn't come cheap. Whether you invest in good bread from a local bakery, or master the art of baking one or two slow fermented breads that you enjoy, the investment is worth it.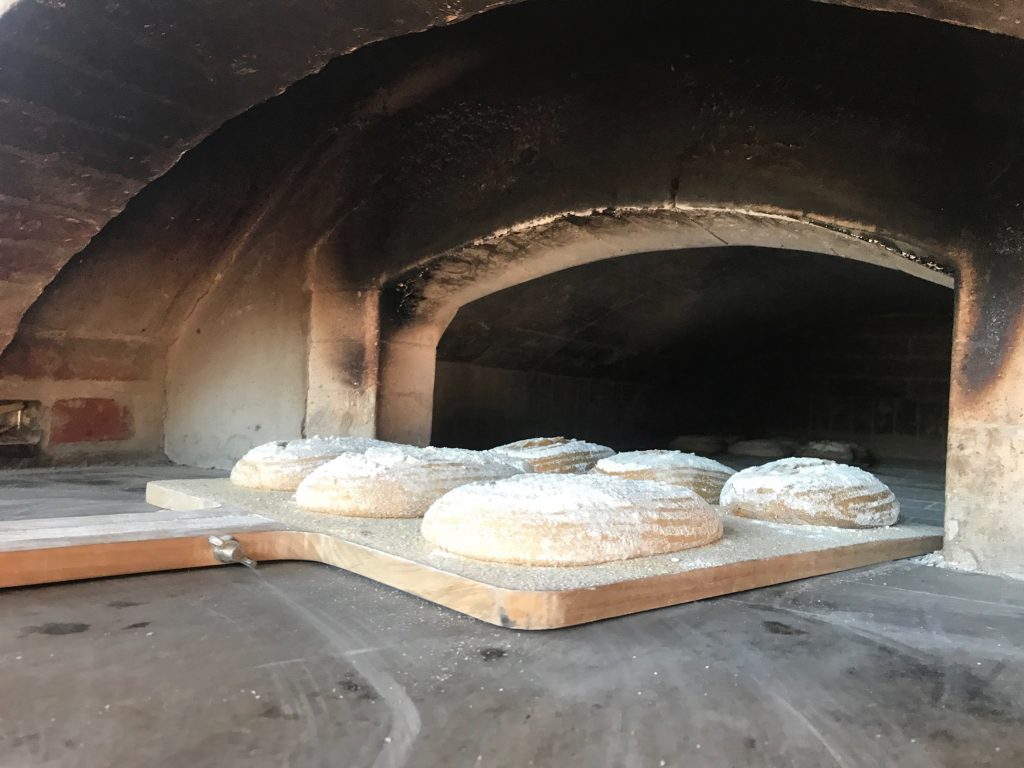 Traditional technique, traditional oven
We often say that bread baking puts you on a collision course with a wood-fired oven. I love the symmetry of baking traditional slow fermented breads in a traditional hand-crafted oven. They are a perfect match. Most people associate wood-burning ovens with high heat flat breads and pizzas. But a wood-burning oven also provides a moist baking environment, making the most of the water in your dough (or any steam you add).  However, the real star is a wood-burning oven's ability to absorb and radiate heat.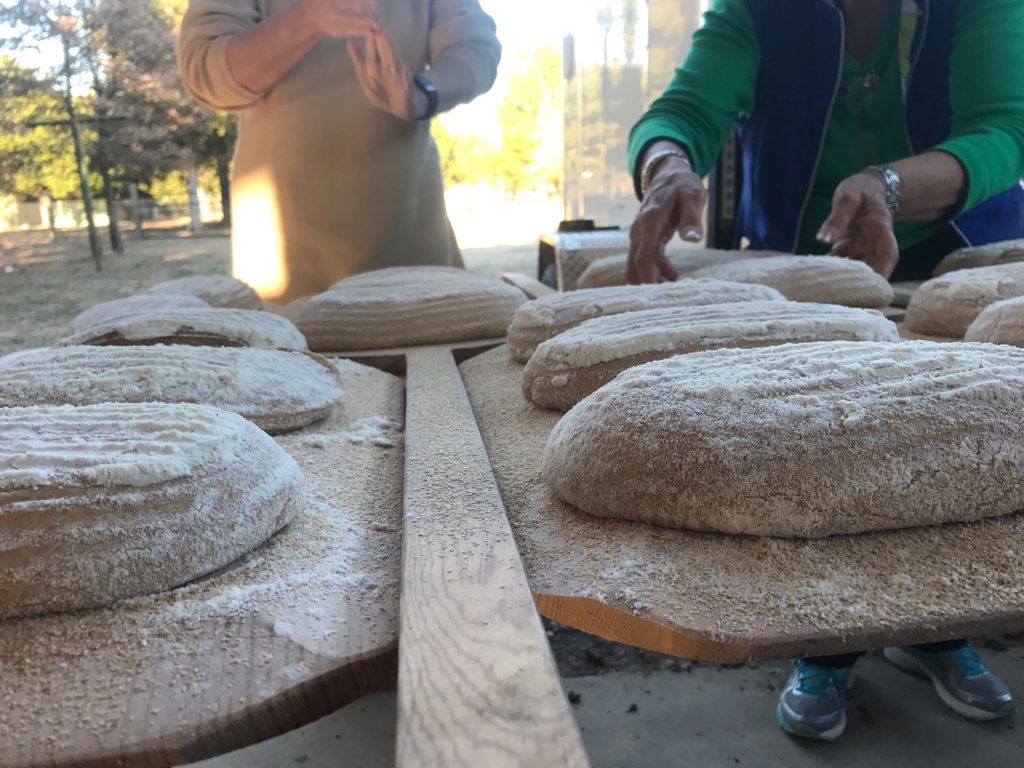 Slow fermented bread and radiant heat
One of the big benefits of baking slow fermented bread in a wood-burning oven is the oven's radiant heat. To get the beautiful crust we associate with great, bakery quality bread, you need radiant heat. For the last few years, home bakers without a wood-burning oven have been using dutch ovens to mimic the radiant heat of a wood-burning oven. In preparing for this blog, I tested that method and it works well. I found that the dutch oven does not need to be pre-heated. (See the King Arthur Flour Flourish blog on this topic for details.)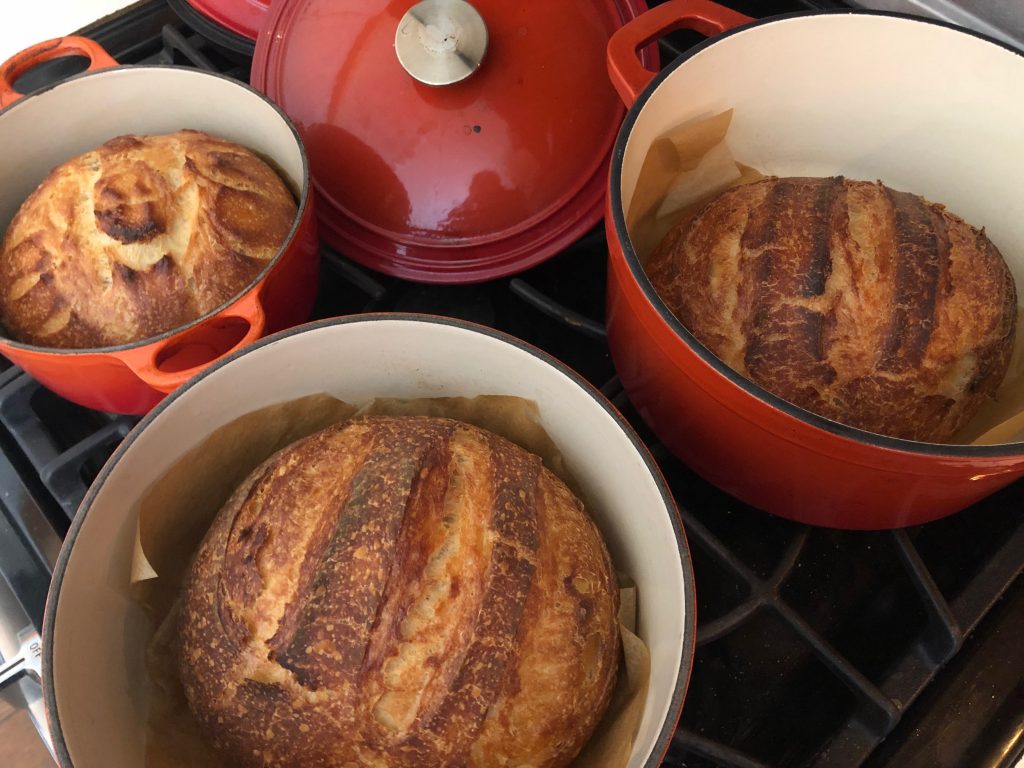 Of course, baking in a dutch oven limits the number of loaves you can do at one time… but it is an excellent hack for imitating the radiant heat in a wood-burning oven. If you have a wood-burning oven, skip the dutch oven on recipes that call for one. Burn your oven long enough for the oven floor and vault to absorb heat and you will get beautiful radiant heat for baking your slow fermented breads.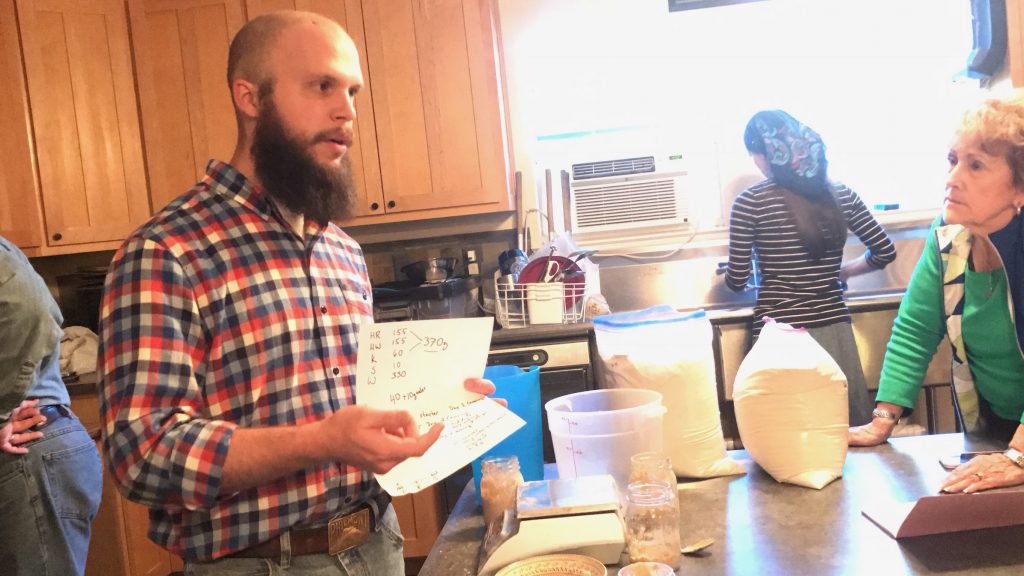 Master the timing of slow fermented breads
Last year Dave attended a bread baking class at Restoration Homestead with master baker, John Mureiko. You can follow John's Barefoot Baker blog here. John's Classic Country Loaf is a slow fermented bread that follows the style of Chad Robertson's country loaf.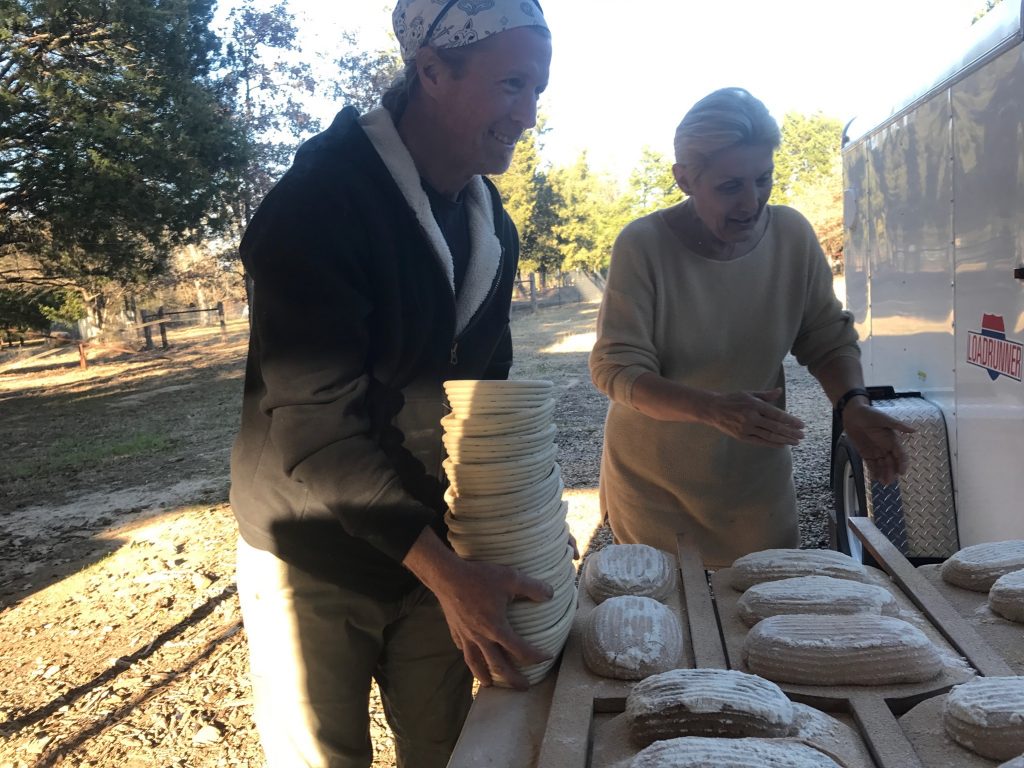 This slow fermented bread has a mild flavor.It is delicious, with a beautiful crust that holds the lines from the flour-dusted proofing baskets. Taking a class is a great way to get started baking slow fermented breads. The timing can be intimidating, and it takes practice to get the feel for how the dough should look, smell, and feel at each stage.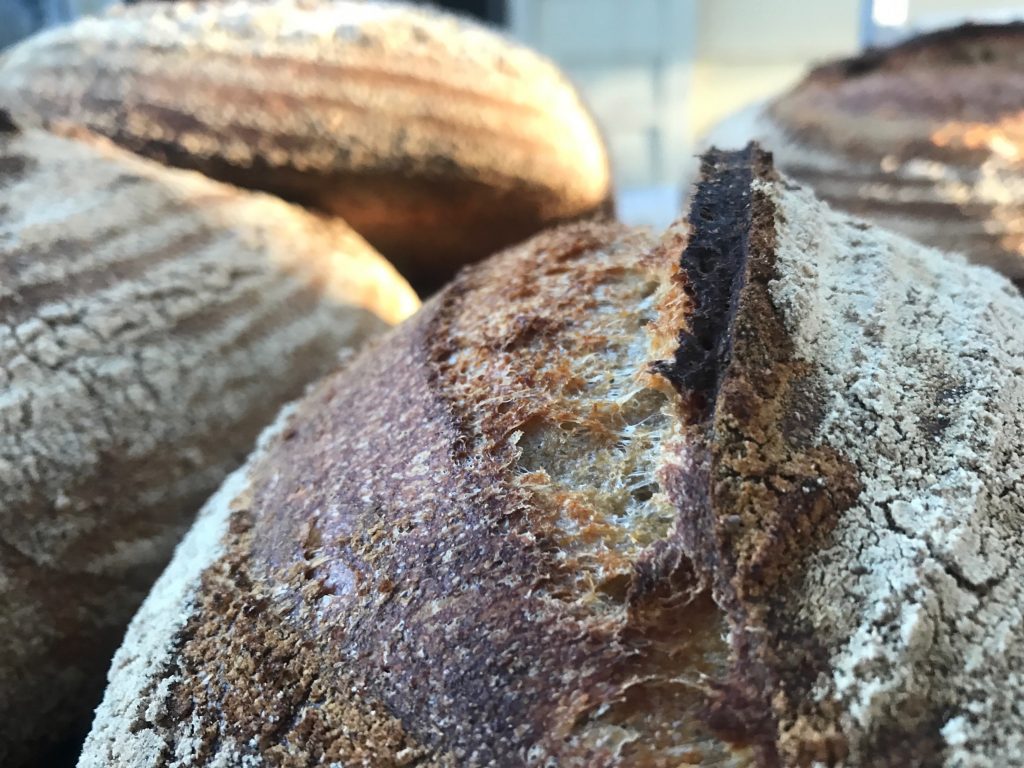 Having grown up in the San Francisco Bay Area, I'm still a fan of tart San Francisco sourdough. One of my favorite recipes for San Francisco style sourdoughs is by Peter Reinhart. I first began baking it based on his recipe in Crust and Crumb, but these days I'm using the updated version in Artisan Breads Every Day
It only takes a few minutes of hands on time
If you have read any "why it works" articles about Jim Lahey's no-knead bread, you already know that the slow fermented breads also require little to no traditional kneading. Once you get your brain around the multiple phases, slow fermented breads are easy to manage.
Peter Reinhart's "purist" recipe for San Francisco style sourdough has three separate slow ferments. You maintain a small mother starter. I keep mine in the refrigerator most of the time, feeding it maybe once a week, depending on when I bake. I made myself a chart to track the timing and posted it inside a kitchen cupboard.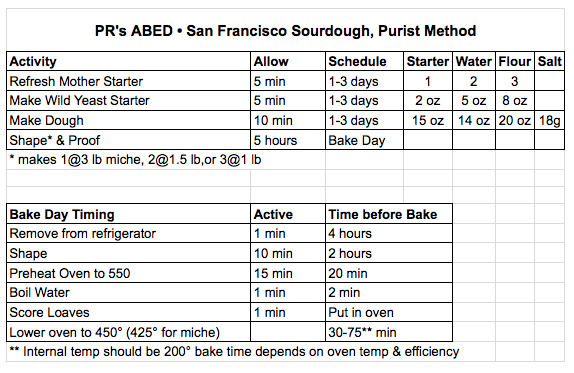 Using a bit of the mother starter, you make a wild-yeast starter. This also ferments for one to three days and is then used in the dough. All of the wild-yeast starter goes into the final bread dough, which also ferments for one to three days. All together there is a lot of slow fermented bread dough happening… and the results make it worth the wait. Each stage takes only a few minutes of hands-on time, the magic happens in the slow, cool ferments.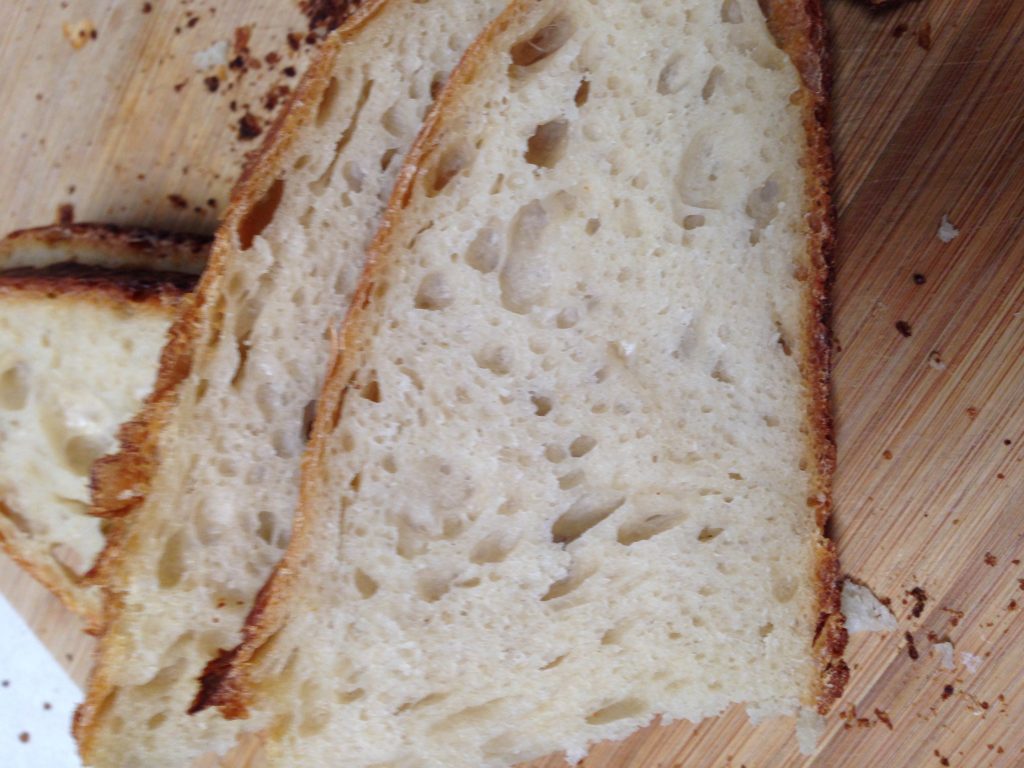 I enjoyed reading the article in The Guardian. I hope that more people will experiment with slow fermented breads. They are delicious, and worth the investment whether in buying them from a local baker, or learning to bake them yourself.
Social Share