Sometimes wood-fired cooking needs to move, so we build mobile pizza ovens. With our signature firebrick Texas Oven™ you can take great flavor and cooking efficiency wherever you go.
We designed this ranch-style unit to maximize oven capacity on a small, maneuverable footprint. The steel pan encloses a hand-crafted firebrick oven with a 48″ internal cooking diameter on a 5'x10′ trailer.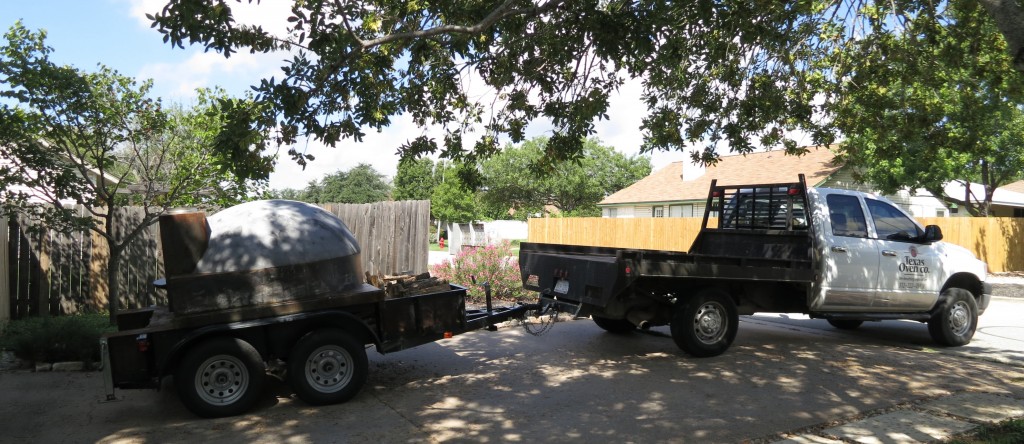 If your brick and mortar restaurant has a wood-burning oven, contact us about taking your signature wood-fired flavor on the road. We have in-stock mobile pizza ovens, and options for custom-color built-to-order oven trailers.
We keep mobile pizza ovens on hand for events in and around Texas. Chefs with wood-fired oven experience may also be eligible to rent one of our mobile pizza ovens for an event.
Our mobile ovens let you showcase your best food on the road: perfect for catering, tailgating, ranch cooking, camping, or hunting. Make authentic wood-fired pizza and much more.
Hand-crafted firebrick oven with 50″ internal cooking diameter
Single axle trailer and double axle trailer models available
Large prep counter
Stone landing at oven opening
Steel door
Open wood storage area, ready to customize
Large enclosed storage area beneath oven
We currently have two demo units available for sale as they are. Both ovens in great shape, with the same master craftsmanship as in our brick-and-mortar restaurant or residential installations. Gently used. These are generation two and three models, discounted to $12,000-$15,000.
Custom generation-four mobile oven trailers coming soon.