Cast iron cookware is Americana. Cast iron cookware links us to our culinary past. Because of its enduring strength and practicality, a number of collector pieces remain from the civil war and America's westward expansion. Just like cooking over an open fire, cast iron cookware is an excellent choice for cooking in a wood-burning oven. For hundreds of years, cooks have used cast iron utensils for high heat cooking. It's tough, reliable, and cherished–Wagners and Griswolds are collector's items.
Why use cast iron cookware today?
Cast iron cookware withstands high heat without warping—making it a consistent and dependable material for cooking over a wide temperature range. It's heavy and withstands banging, stacking, and rough treatment. It retains heat, making it a good choice for stew and bean pots. It's highly radiating so cornbread and biscuits baked in cast iron skillets cook evenly. The seasoning on cast iron cookware contributes to food flavor. All of these characteristics make cast iron cookware ideal for cooking in a wood-burning oven. (Check out our blog on making Chicago-style deep dish pizza in a cast iron pan.)
To season or not to season?
That's really not a question. You have to season a cast iron skillet to build up a non-stick surface. With proper seasoning, skillets develop a layer of polymerized oil that adheres to the surface of the pan. When properly seasoned and heated, they are consistently non-stick and are frequently passed down through generations. However, don't expect it to be Teflon  which can handle delicate protein started in a cold pan with minimal fat.
Uneven heat?
On the stove top, cast iron cookware tends to heat unevenly. You deal with this by slowly pre-heating the utensil so the edges have a chance to catch up with the center before searing, sautéing, or frying. Uneven heating is less of a problem in a wood-fired oven because cooking utensils are surrounded by energy from the fire, the walls, the vault, and the entire bottom of the cookware is in contact with the oven floor. Surfaces heat quickly and evenly. And once cast iron cookware gets hot, it stays hot! When cooking steak, I like to preheat my cast iron cookware while the fire is heating the oven. By the time I'm ready to cook, the cast iron surface creates a beautiful sear.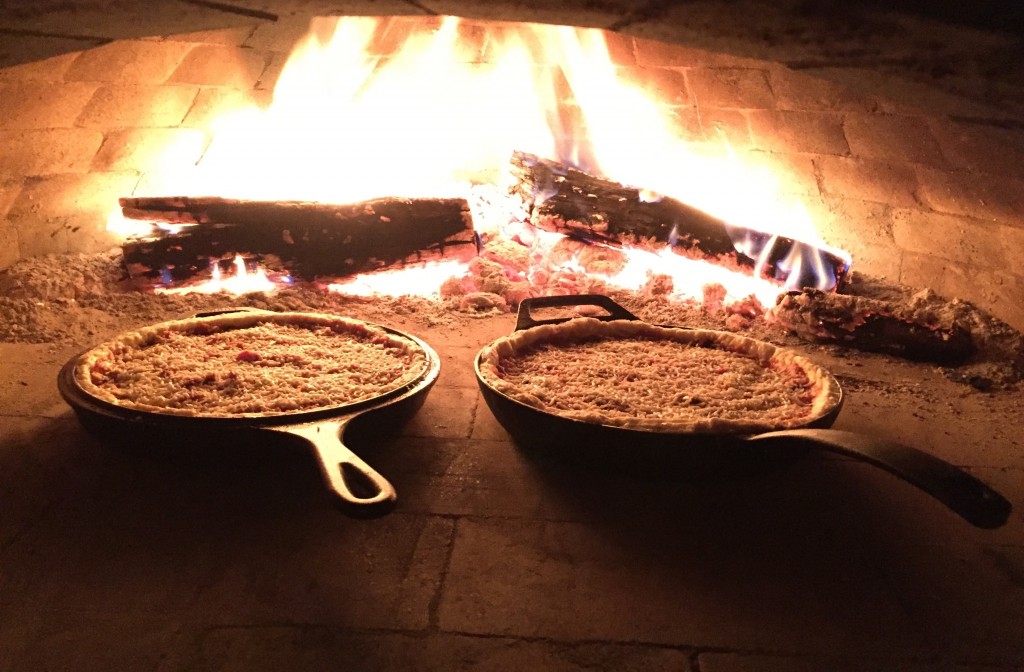 American made?
The Lodge  manufacturing company, founded in l896, is the oldest American cast iron cookware company in continuous operation. Wagner and Griswold cast iron utensils are collector items because the companies are no longer in business.  Several new American manufacturers have begun producing cast iron cookware in the last few years: Borough Furnace in NY, FINEX in Portland, and Peter Huntley's recent Kickstarter Stargazer in NJ.
Dedicated cast iron cookware devotees (like the folks on Cast Iron Chaos) debate the best manufacturers but many feel that "when it comes to quality cookware, the best in the world still comes from the United States of America"  and note that good Asian cast iron  can be purchased from importers such as Bayou, Camp Chef, Coleman, Old Mountain, and Texsport.
Seasoning Cast Iron Cookware
Much of the cast iron cookware today is sold pre-seasoned. That saves some time, but doesn't eliminate the need to continue to season (and re-season) your cast iron cookware. Most people agree on the basics: wash gently when necessary. Dry immediately, possibly with some added heat. Rub in oil. Battles rage over the type of oil, when and how much to heat, etc. A wood-burning oven provides steady heat for hours, so you can wash up your cast iron cookware, rub in some oil and slide it in the oven to heat and cool along with the firebrick.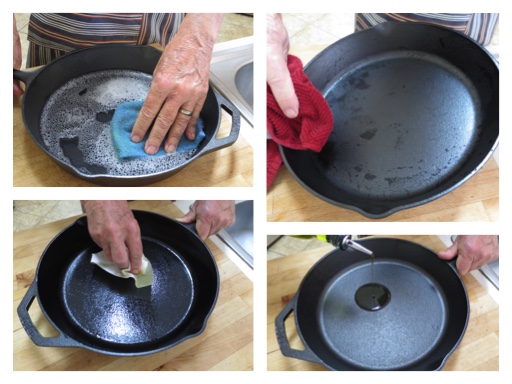 Photo credits to Sarah Harper for cast iron cookware and wood-fired egg photos.
Social Share