About 12 years ago I stopped looking at (let alone trying) recipes for dinner rolls. Bernard Clayton's description of his mother's dinner rolls in The New Complete Book of Bread (page 522) was so compelling I immediately made a batch. They shut the door on every competitor. I don't think we've made anything smaller than a double-recipe since that first baking. My husband likes them so much he volunteers to help if I am willing to make them. Over the years we've frequently baked them together; for company, for gifts, and for Thanksgiving.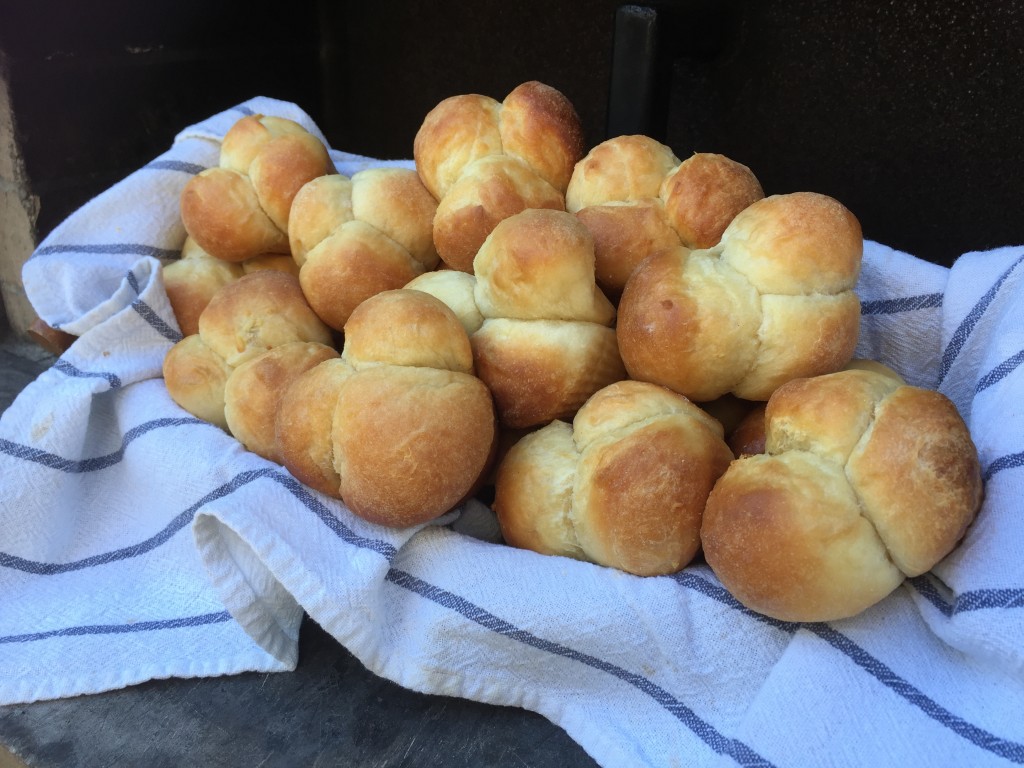 Lenora's Yeast Rolls have something of a cult following among home bakers. Be prepared: if you make them for friends, you'll be asked to make them again. You'll be asked to make double and triple batches. You may be asked to bake dozens!  Last week for Thanksgiving we made over 150. Of course, you will have people willing to help! Here's a line up of the ingredients for three double batches prepped by our 11-year old.
State fair or family dinner
According to Google books, the current version of Clayton's book has  Lenora's Yeast Rolls on page 474.  (Used copies sell for under $5 on Amazon.) This recipe is one of the few in his book attributed to someone by name. Clayton honors his mom and her Indiana-State-Fair-winning rolls in saying, "she was an outstanding cook but no matter what special dish she placed before her guests, it was her rolls that drew the most flattering remarks from men—and requests for the recipe from the wives" (New Complete Book of Bread).
It seems that everyone loves these dinner rolls. Many of my friends who bake have made it a favorite, too.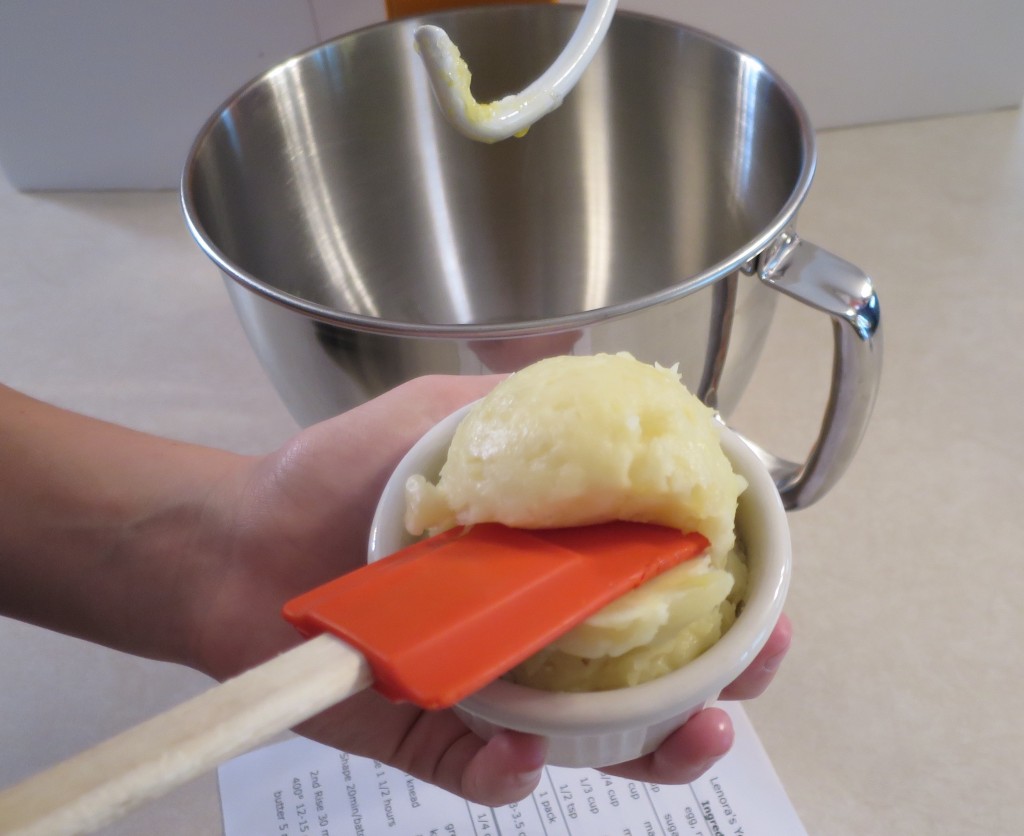 Potato for texture and preservation
These rolls have a soft, moist texture from the inclusion of mashed potato. In an article called Why Does Potato Bread Stay Fresher Longer Than Other Breads? the team at America's Test Kitchen described the effect potato has on bread. "Not only were [potato] rolls incredibly soft and moist right out of the oven but, unlike other breads, they were as soft and fresh a day later…The starch molecules in potatoes contain negatively charged phosphates that deter them from recombining, and diluting flour with potato makes it harder for the wheat starches to crystallize as well. The net effect? Potato breads stay soft much longer."
Simplifying the recipe
I find Clayton's recipe a bit difficult to follow in its original form because he alternates between instructions for using a food processor, a stand mixer, or working the dough by hand. He also includes shaping instructions for six different dinner roll styles. With Youtube, you can look up shaping instructions for Parker House, bowknots, rosettes, butter-horns, crescents, cloverleafs, and fan-tans.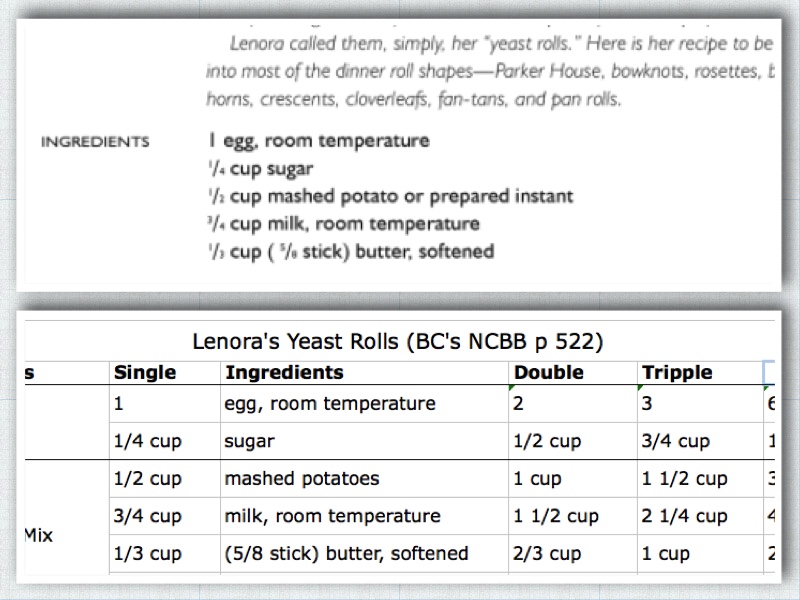 I reformatted his recipe into action form and added columns for double, triple and x6 versions. I have the recipe on a single page.
Cloverleaf dinner rolls are beautiful and buttery
After trying his different shapes, I recommend either the cloverleaf or pan rolls. The cloverleaf requires shaping three individual dough balls and baking them in a muffin cup. The cups in a muffin tin hold butter against the rolls. Each roll absorbs the maximum amount of butter and attain a lovely crisp exterior. Cloverleaf rolls are indisputably beautiful, and they pull apart into lovely little pieces. What's not to love? The amount of time to shape them. It takes me three times as long to shape cloverleaf rolls as pan rolls. And they require muffin tins. That's fine for a single batch, but time consuming if you're making 150 rolls needing 450 tiny dough balls.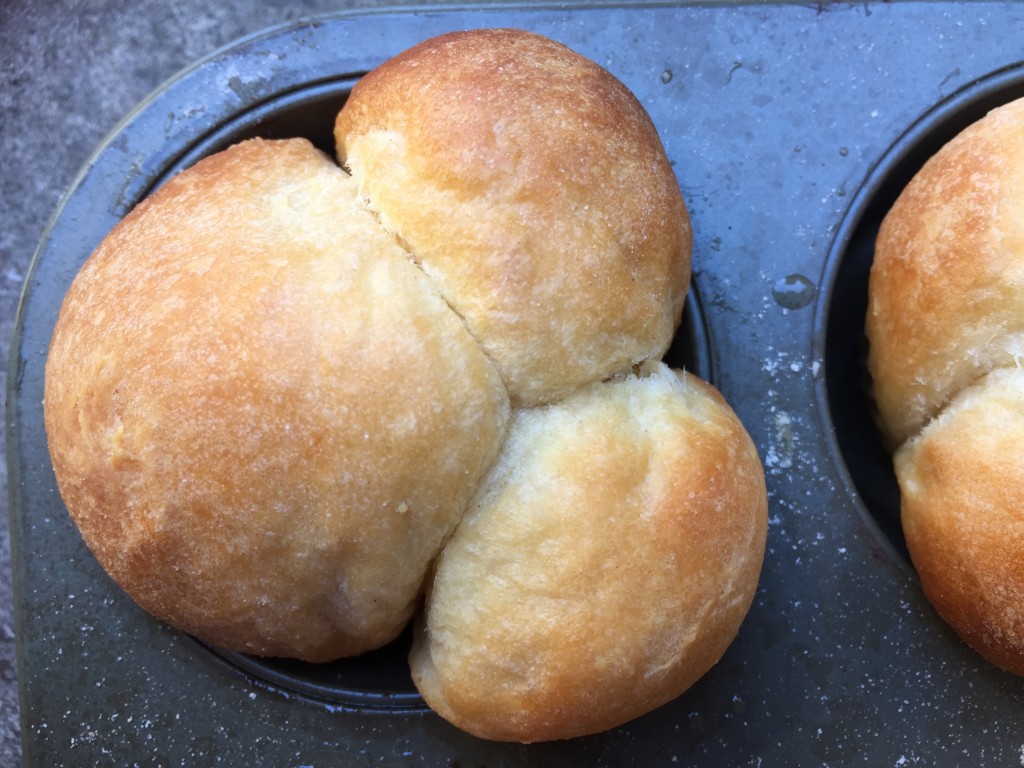 Practical pan rolls
These days I usually make traditional pan rolls. They are not as impressive as cloverleaf rolls and do not bake in muffin tin cups of melting butter. But pan rolls still bathe in butter and come together quickly. Depending on how you portion the dough, 8-12 rolls fit in a 9″ baking round. A pan of yeast rolls make a thoughtful gift. Dinner guests will rave about fancy dinner rolls. A pan of two of dinner rolls, is is a show stopper at any party.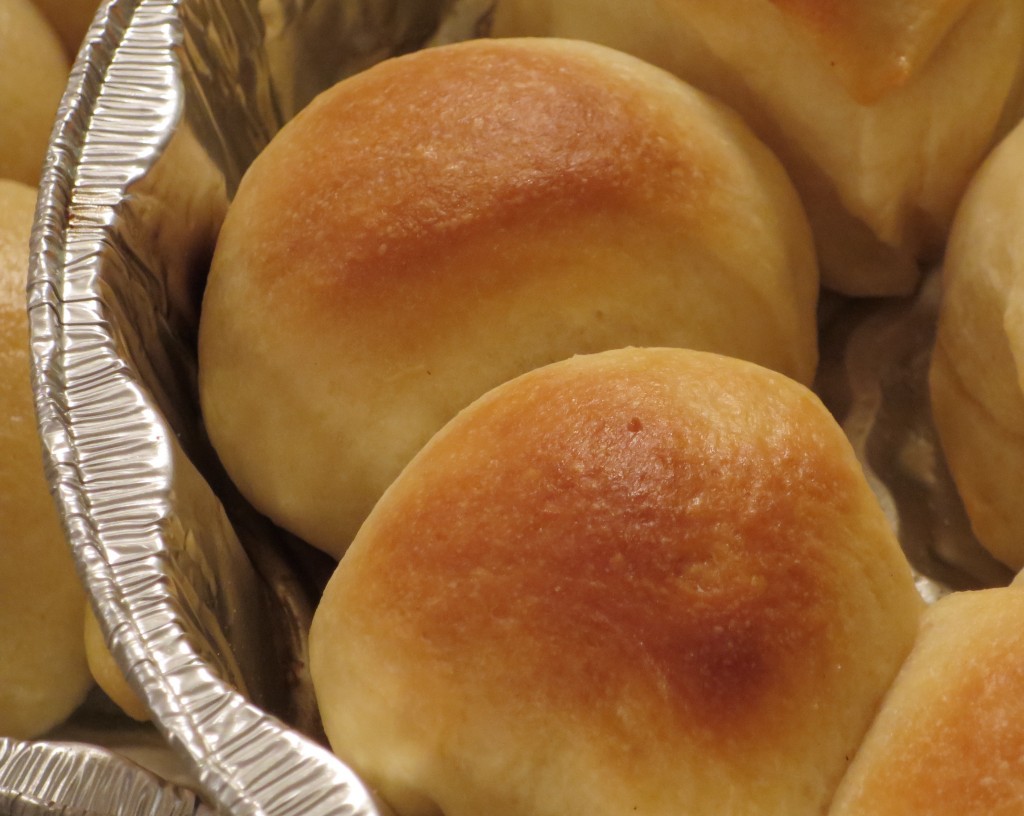 Leonora's rolls bake easily in a wood-fired oven, especially the morning after a big fire or when the temperature is moderate.  We have baked them in an oven at a range from 325 to 400. I adjust the baking time based on the oven temperature and cover the rolls if they are browning too quickly. I leave the rolls lighter for freezing them to brown and serve at a later date. Rolls should come up to room temperature before re-baking.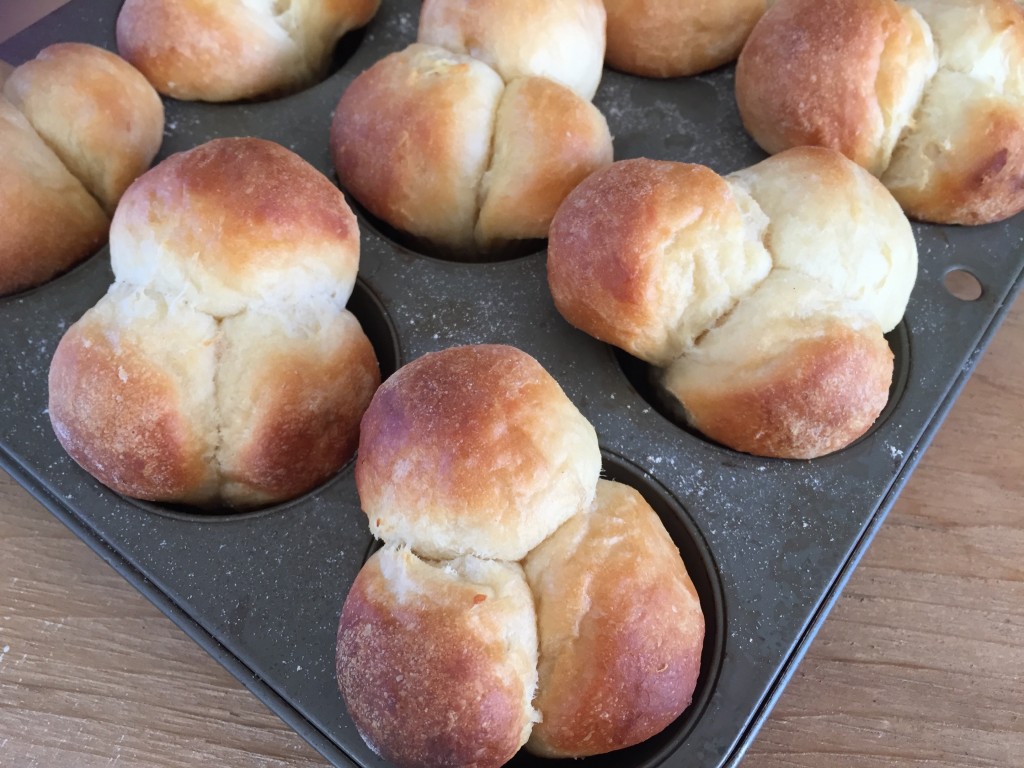 Wood-fired baking
Be prepared for something special in turning out your own baked goods (sourdough bread, rustic whole grain loaves, flaky croissants, comforting dinner rolls, or a batch of cookies). There's nothing like the flavor and textural nuances from yeasted dough baked in a wood-burning oven. For bread lovers, it is the ultimate comfort food. Don't be surprised if you become "the bread person."
Social Share