If a cracker is crisp and delicious, you probably can't eat just one. In that sense, they are like chips, one is not enough. Master baker Peter Reinhart, now on the educational side of the bread-baking revolution, states If I were to go back into the baking business, it would be to make crackers, specializing in making them with sprouted flour and seed and nut flavors. (Bread Revolution: World-Class Baking with Sprouted and Whole Grains, Heirloom Flours, and Fresh Techniques)
Crackers for everyone
With just a quick look through bread-baking books, you find crisp breads, flatbreads, and crackers are popular worldwide. They have greatly improved from the early 19th century digestive biscuits and hardtack. Early recipes called for flour, salt, sugar (sometimes), butter and milk, and the typical cracker was round,  about 1/4 inch thick, baked, then air-dried to become hard enough to crack.
Today you can find or make your own with whole wheat flour, AP flour, sprouted grain flour, with leaven or without, round, square, unformed, seeded, gluten-free, and creative options with fruit and herbs. Of course, the basic cheese cracker (whether cut into fish shapes or just sliced into squares) are a crowd pleaser.
From your oven
Crackers are easy to prepare and a snap to bake in your wood-fired oven. The additional flavor from wood-fired baking makes them taste even better than the same recipe prepared in your conventional oven. Cracker-baking takes advantage of the heat-up time and the cool- down time in your oven. As the oven temperature moves into the 375-425 degree range, it's a great time to bake dough products, roast nuts and seeds, make granola.  Since crackers bake quickly, they make excellent snacks for guests while  the rest of the meal is being prepared.
Simple and easy
Peter Reinhart's recipe for thin wheat crackers is an easy, flexible recipe to start with.  I've used his basic formula and tweaked it for variations like these buttery whole wheat saltines.
Elegant with effort
Check out the inspiring cracker pictures featured in Chad Robertson's Tartine Book No. 3. Chad states: We've had great luck experimenting with filled crackers. Soft herbs and flowers such as tarragon, chives and their blossoms, borage, and marigold petals can be sandwiched between thin layers of dough, giving he finished crackers a stained-glass look. 
Chad's technique involves running the basic dough through a pasta maker. The dough must be thin enough to sandwich leaves and blossoms between two layers and still reveal the colors and shapes of the enclosed flora. His creations are artworks, almost too beautiful to eat, yet they are quite a conversation piece and worth trying if you like a challenge.
My first attempt at Chad's sandwiching method tasted delicious and were worth the extra effort. I hope you give both elegant and easy crackers a try in your wood-fired oven. They are a great way to utilize down-cycle heat (see our blog on baking for days from a single fire).
Homemade crackers in pretty packages make fun and unusual hostess gifts.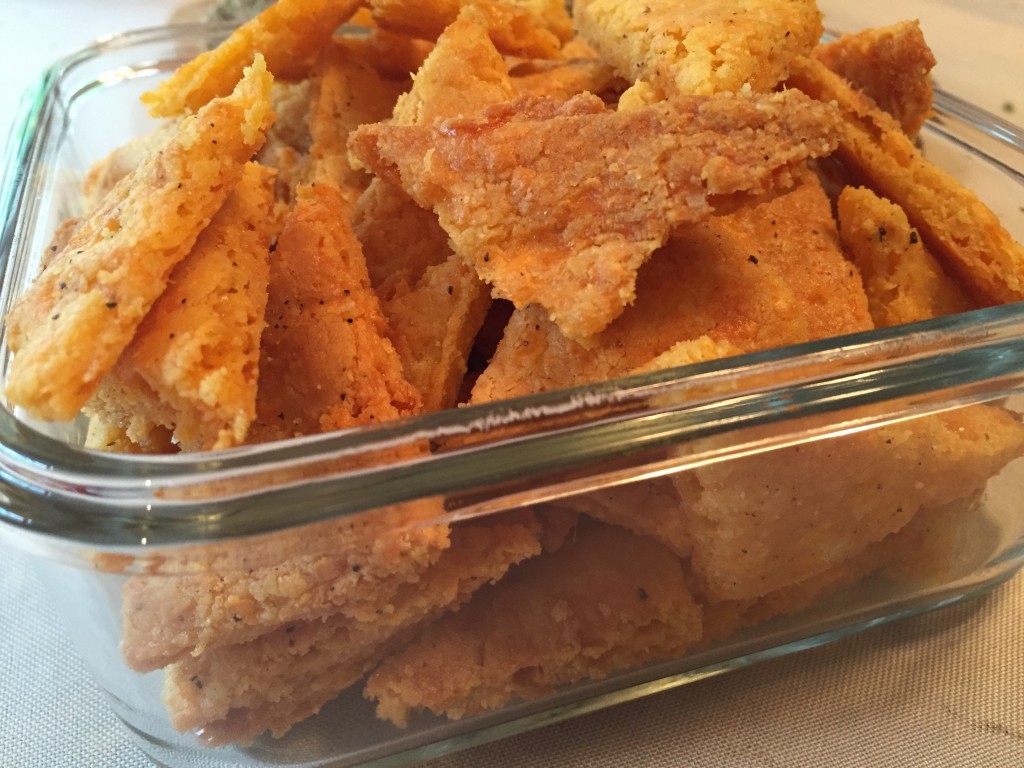 Social Share