Texas Oven Co. customers Josh and Paige Kaner, owners of Pieous restaurant, recently earned the honored VPN certification (Vera Pizza Napoletana). Pieous is the only two restaurant in Austin, and one of only two in the state, to have received the VPN award. The delicious pizza at Pieous is made in accordance with the high standards required of traditional pizza-makers in Naples.
To get a VPN certification for Pieous, Josh mastered techniques of making and handling dough, preparing fresh ingredients, making cheese and baking the assembled pizzas in a wood-fired oven. True Neapolitan pizza bakes for 60-90 seconds in a wood-fired oven capable of heating up to 800-900 degrees. It's entertaining to watch Josh and JoJo "doing the ballet" of quickly moving pizzas in and out of the oven.
Josh also makes wonderful pastrami, although it might seem an unusual pairing—Italian pizza and New York deli-style pastrami sandwiches. However, the pastrami has proved to be a customer favorite, even among pizza lovers. Depending on how much he can spare, Josh sometimes sells bread, pastrami, cheese, croutons and other ingredients customers have enjoyed at the restaurant.
Why is Pieous such a friendly environment? Josh and Paige are committed to their employees and their product. Like spokes in a wheel, they work together and strive for a "sense of urgency" in serving the customers. Josh and Paige will soon open a coffee shop on the premises. Separate from Pieous, it will open at 6 in the morning, seven days a week and serve coffee, tea, smoothies and pastries.
Pieous is located at 12005 Highway 290 W., Austin, Texas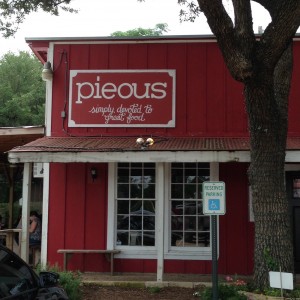 You can read more about Pieous in the article by Meredith Bethune in Edible Austin.
Social Share