Don't let a delicious wood-fired breakfast be an after thought! Capitalize on your outdoor oven's heat storage capacity to turn out incomparable breakfasts–hot, tasty, touched with wood-fired flavor. Breakfast reminds me of long time favorites: eggs, grilled meats, flavorful hash, and fragrant breads.  In your wood-fired oven all breakfast items are enhanced.
Store the heat
Storing heat overnight after an evening fire, requires a steel door with a proper seal. A tight-fitting door  cuts off the oxygen that flows into the oven through the mouth. By banking the evening's coals and ashes to the back of the oven and sealing the mouth with the door, the fire lacks oxygen and "goes to sleep." It hasn't gone out, it's just not burning. The masonry continues to absorb heat which will be available for morning cooking.
Re-kindled fire
If you've banked enough live coals and ash in the evening, the fire should spring to life when the door is opened.  Use caution in opening the door, if there was too much available fuel still in the oven, the fire could spring to life. Or if the coals appear sluggish, rake them closer to the mouth for greater access to oxygen and top with a few dry garden clippings or other kindling. When flames appear, add a stick of wood and you'll soon have temperatures suitable for grilling sausage, bacon, breakfast steaks, and oven-fried potatoes.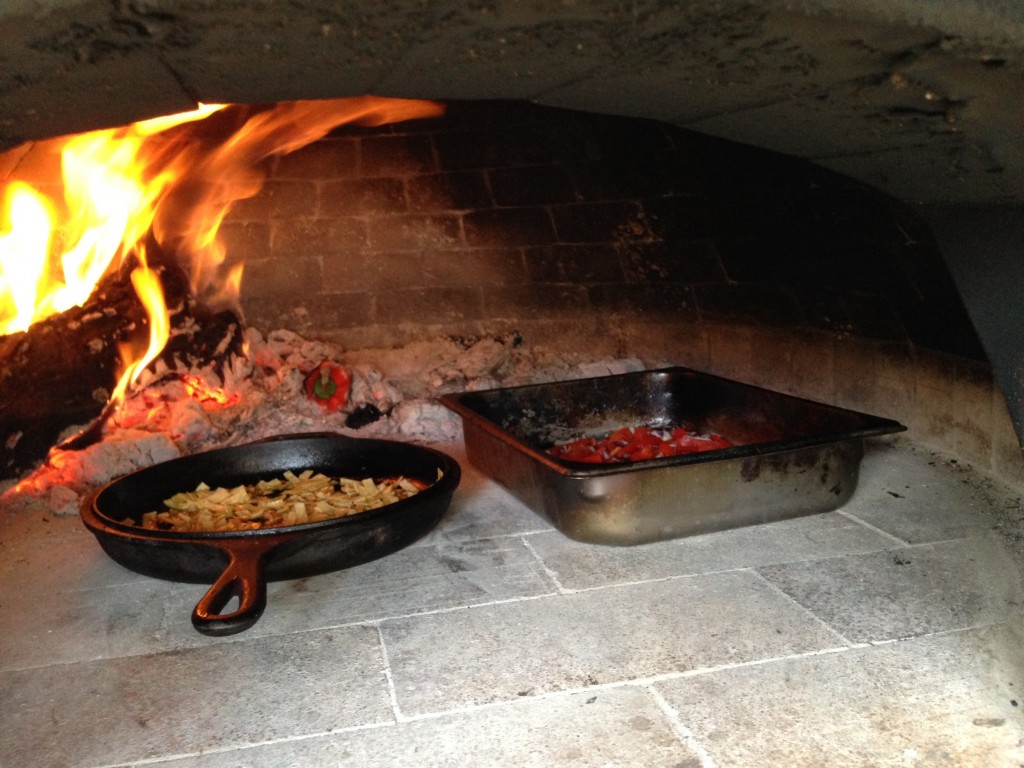 Residual heat
Stored heat is often sufficient for baking and re-heating without rekindling fire. Heat that radiates from the floor and the vault creates an excellent environment for baking. Depending on the heat, this is usually appropriate for quick breads, muffins, biscuits, and re-heating leftovers, baking and scrambling eggs.
Rustic breakfast?
Wood-fired leftovers don't last long around our house. I love to incorporate leftovers into a quiche, frittata or hash.  The breakfast hash pictured is made from steak, potatoes, onions, and peppers leftover from the evening meal. We combined the leftovers to make a quick hash and warmed it in the oven. Then we topped it with eggs and let them cooked to a perfect creamy yolk.
My family could eat migas every day. With a couple corn tortillas on hand, the same peppers, onions, and eggs made migas easy. We pan-fried corn tortilla strips in a cast iron skillet while warming the peppers and onions. Then we added whisked eggs.
If you scramble the eggs and other ingredients while they cook, you get a great migas filling. If you add some cream to the eggs and bake without stirring, it will set up like a Tex-Mex frittata. (See this great article from Bon Appétit on keys to making a good frittata.)  Top the the finished migas or frittata with some grated cheese and garnish with cilantro, jalapeños, and avocado.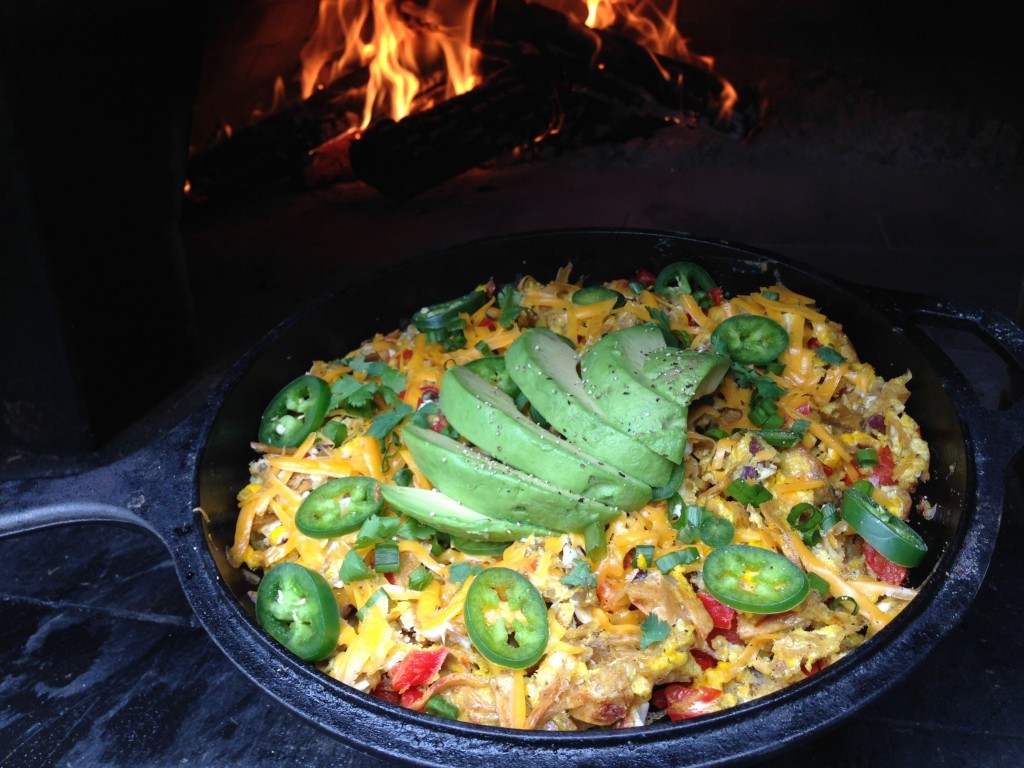 Elegant breakfast for entertaining
We've included pictures of some of our breakfast favorites and ran out of time before making on of my favorites: Eggs en Cocotte. This elegant and easy breakfast shows off a wood-burning oven's versatility and makes for a great entertaining breakfast. This works even when you have low residual heat. Set ramekins on a  baking dish or in a hotel pan with some water in it. Bake until the whites are cooked and the yolks are just set. Delicious! If you try it, we'd love to see photos!
Always delicious and still surprising is French toast. I made the pictured French toast from baguette slices soaked in a rich, custard-like batter of eggs, cream, vanilla bean, and sugar. The baguette slices soaked up the custard and baked quickly in a 1/3 size hotel pan. The re-kindled fire provided just the right amount of heat to bake the French toast through. I moved the dish closer to the flame to toast the top, flipped the pieces and toasted the other side leaving a soft interior. It is a toss-up between powdered sugar and cherry preserves as a topping.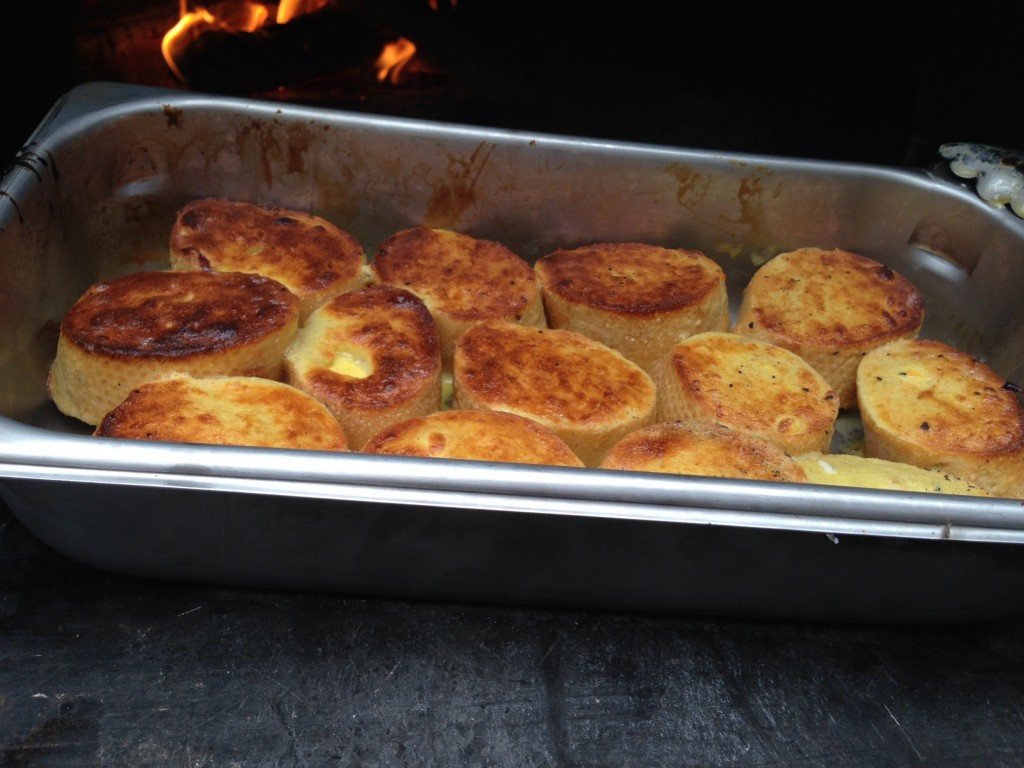 Social Share