Traditional Italian Ovens in the Land of Barbecue
We exist in an interesting niche: building old-Italian ovens in post-digital Texas. Hmm. The ovens we build combine the best modern materials with ancient technique and design. It's an anachronism we're happy to embrace, getting the best of both worlds. It's the nostalgic village oven, without the falling debris, inefficient thermodynamics, and dues to the bake master. We have a similar attitude about BBQ pizza. If you can get the best of two worlds, why not?
Gourmet Pizza Revolution
Back in the '80s, aspiring restaurant owners Larry Flax and Rick Rosenfield wanted to start a restaurant that would capitalize on the gourmet "California" pizza revolution popularized by Wolfgang Puck. According to Emily Becker's article on Mental Floss
"Puck had once tasted a pizza topped with ricotta cheese, red peppers, pate and mustard, and immediately hired its creator, Ed LaDou, as a pizza chef for his first restaurant, Spago, when it opened in 1982."
Flax and Rosenfield asked LaDou to develop the menu for their restaurant, California Pizza Kitchen (CPK) and the iconic BBQ chicken pizza was born. The Los Angeles Times obituary honoring LaDou credits him with pioneering gourmet pizza.
"As the first pizza chef at Wolfgang Puck's Spago and a developer of the first menu at California Pizza Kitchen, LaDou was an instrumental figure in a distinctly Californian phenomenon: the revolution that gave the world such innovative creations as the barbecue chicken pizza, pizza with breast of duck and hoisin sauce, pizza with marinated shrimp." (Stewart, 2008)
Thirty years later, CPK fans still miss the Rosemary Chicken Potato and order the Carne Asada, Thai Chicken, and of course the BBQ Chicken pizza.
Back to Basics?
Some feel the trend has gone too far. There's a reason people still rave about their first bite of real Neapolitan pizza. They come back swooning over the thin slightly charred crust, the scant toppings, the perfect flavor balance and look for locals replicating that experience. (Peter Reinhart's entertaining homage, American Pie: My Search for the Perfect Pizza is hilarious and worth the read.)
In today's hipster food-fusion world, some of the "innovation" is just wrong. When Pizza Hut introduced "Hot Dog Bites Pizza" (28 pigs-in-blankets wrapped around a traditional pizza), Vogue Magazine cited it as proof that the "hybrid food trickle-down effect" had gone past insanity.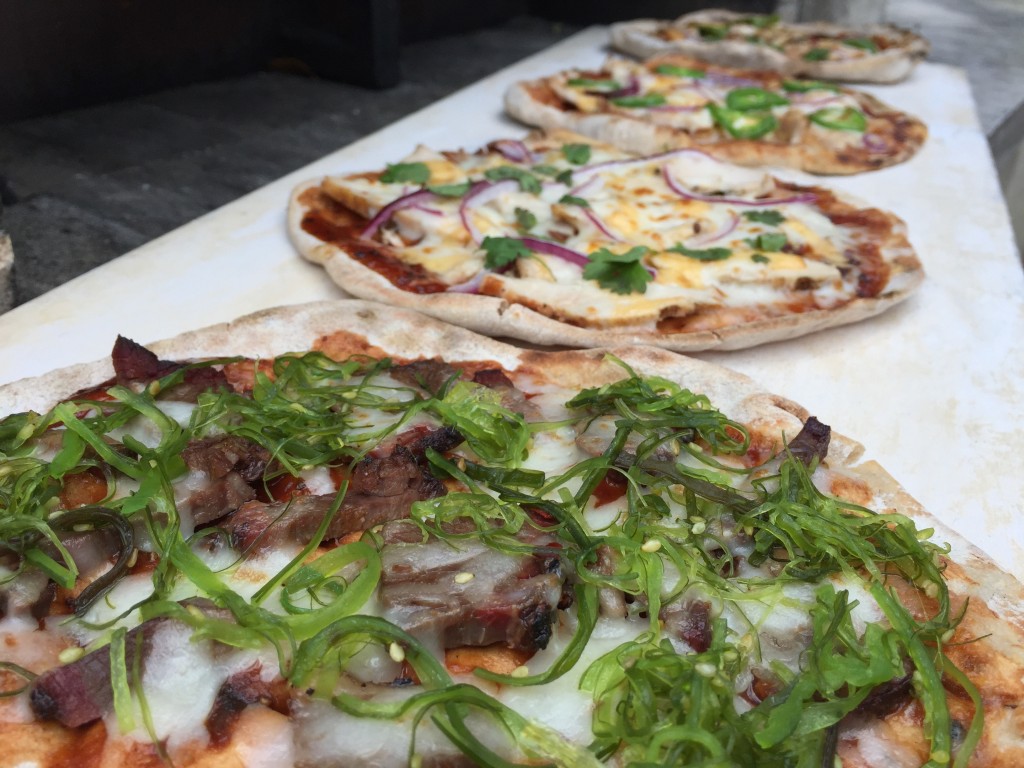 Balancing Act
Trendy non-traditional pizzas continue to appear on restaurant menus, even as some call for a return to the traditional. Today, restaurants like Pieous, Honey's, and Il Forno offer traditional options along with more playful pizzas. We like experimenting with interesting combinations, staying true to the fundamental principle of wood-fired pizza: keep toppings minimal.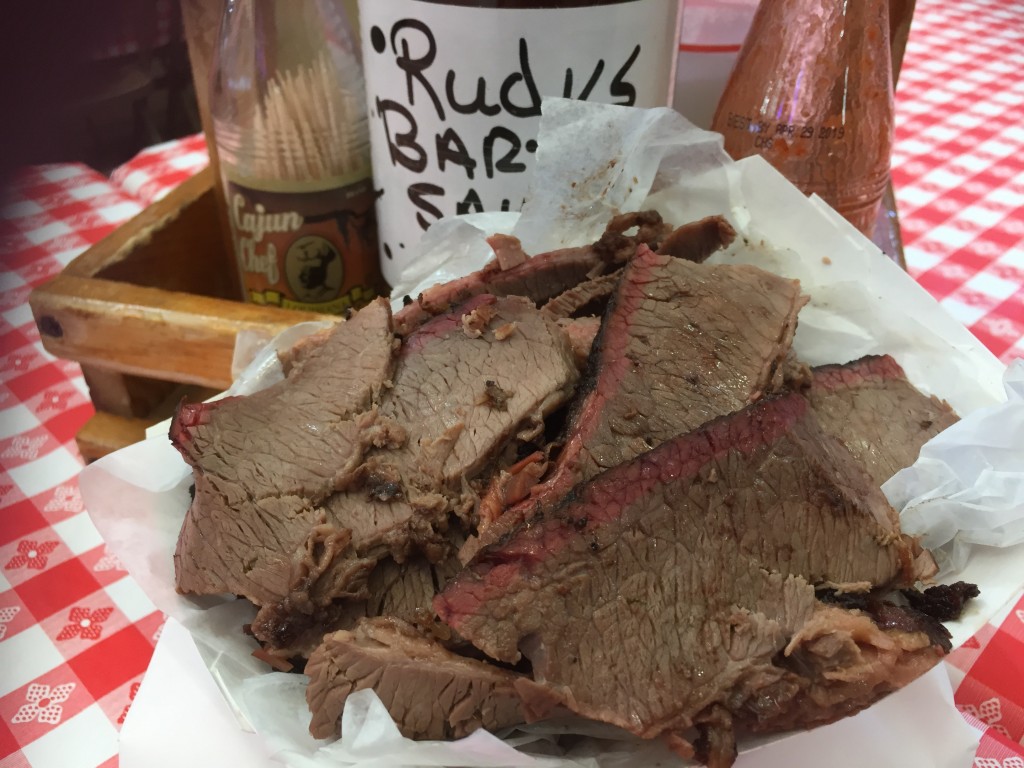 Texas Take on BBQ Pizza
In an area where smoking meat is an art form (and in light of the multi-decade staying power of CPK's BBQ Chicken pizza) it seems BBQ pizza is a keeper. Smoke your own meat, or stop by a local joint to pick up the meat. Dave's new-favorite BBQ pizza (which he named The Texas Hippie™) combines BBQ sauce, smoked meat, and a scant bit of cheese. He garnishes the baked pizza with Goma Wakame, a Japanese seaweed salad.
BBQ and weed might sound like a summer concert series in Austin, but its actually the BBQ pizza that might change your pizza world-view (and have you adding Goma Wakame to your Costco shopping list).
Texas Hippie BBQ Pizza
Replace traditional tomato sauce or herbed oil with a bit of BBQ sauce. Top with any BBQ meat you like, cover with a bit of cheese and bake until the crust is charred and the cheese has melted and browned. Garnish the pizza with seaweed salad after it comes out of the oven.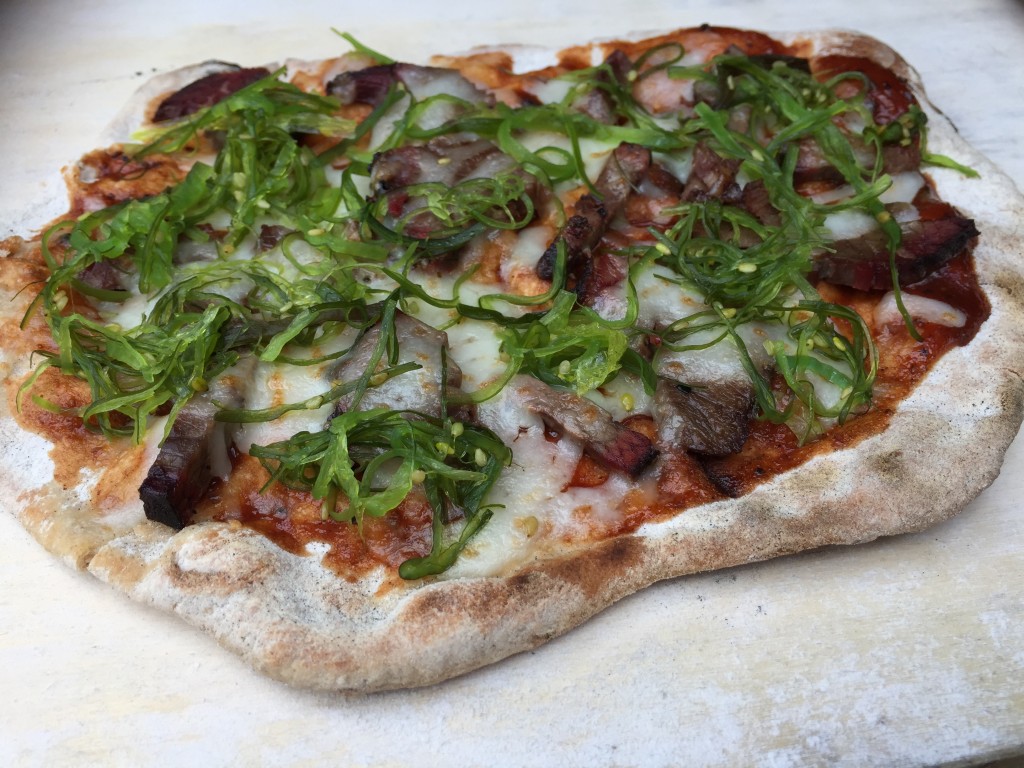 The Classic CPK BBQ Chicken
The classic BBQ pizza with chicken also uses BBQ sauce as the base, and tops it with chicken (we used Rudy's BBQ  turkey here), a combination of mozzarella and smoked gouda cheeses, red onion, slices, and jalapeños. The baked pizza gets a colorful garnish with fresh cilantro leaves.
Hot Combo
Not for the faint of heart, BBQ pizza stripped down to sauce, meat, and jalapeños is a addictive. This version has a mix of turkey and brisket, BBQ sauce, mozzarella and smoked gouda cheeses. Delicious! I tried these on our gluten free pizza crust too and although it seems incongruous with down-home BBQ… this entire blog has been about making contradictions work, so it seemed appropriate. The GF Texas Hippie was just weird enough for Austin .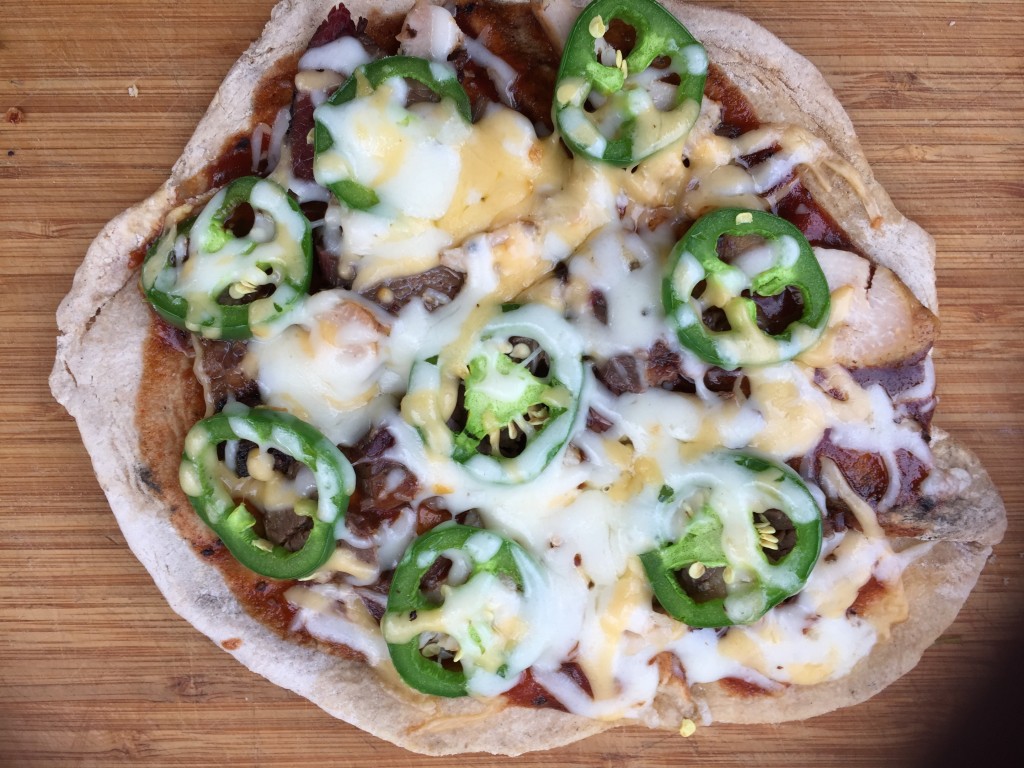 Social Share