Why has live fire cooking become a movement, and not just a trend? It has to do with change in how we look at food and lifestyle, sustainability, and the ancient wisdom of fire and flavor. Food trends tend to be temporary. Peruse the old cookbooks and remember the days of jello, the mayonnaise casseroles with tuna and chips, snack mix with worchestershire sauce?  We've all seen modern flash in the pan food fads (gels, foams, liquid nitrogen?) that eventually wear out their welcome.  In an article addressing fads and trends in technology,  Lime Red cites a popular food trend, "bacon on everything," to differentiate a trend from a movement.
Movements don't come and go, movements come and stay until they're no longer needed because the world has totally changed, or because technology no longer requires them. Movements happen because a group of people is working toward a change. Restaurants putting bacon on EVERYTHING was a trend (a delicious trend) but the adoption of healthier, sustainable, more responsible food sourcing is a movement.
Fire, flavor, fun
Unique flavor has elevated live fire cooking into a movement. That unique, sought-after flavor isn't attained in food cooked over gas or electricity.  It's a chemical transformation induced by fire, wood, and smoke. But live fire cooking involves more than just how food tastes. It's a feast for our other senses as well. Most restaurants with wood-fired grills or ovens, incorporate them into the restaurant design. Whether it be wood grills or ovens, places like Barley Swine and Dai Due, Odd Duck, Pieous, and Stella Public House, all feature live fire cooking as part of the experience.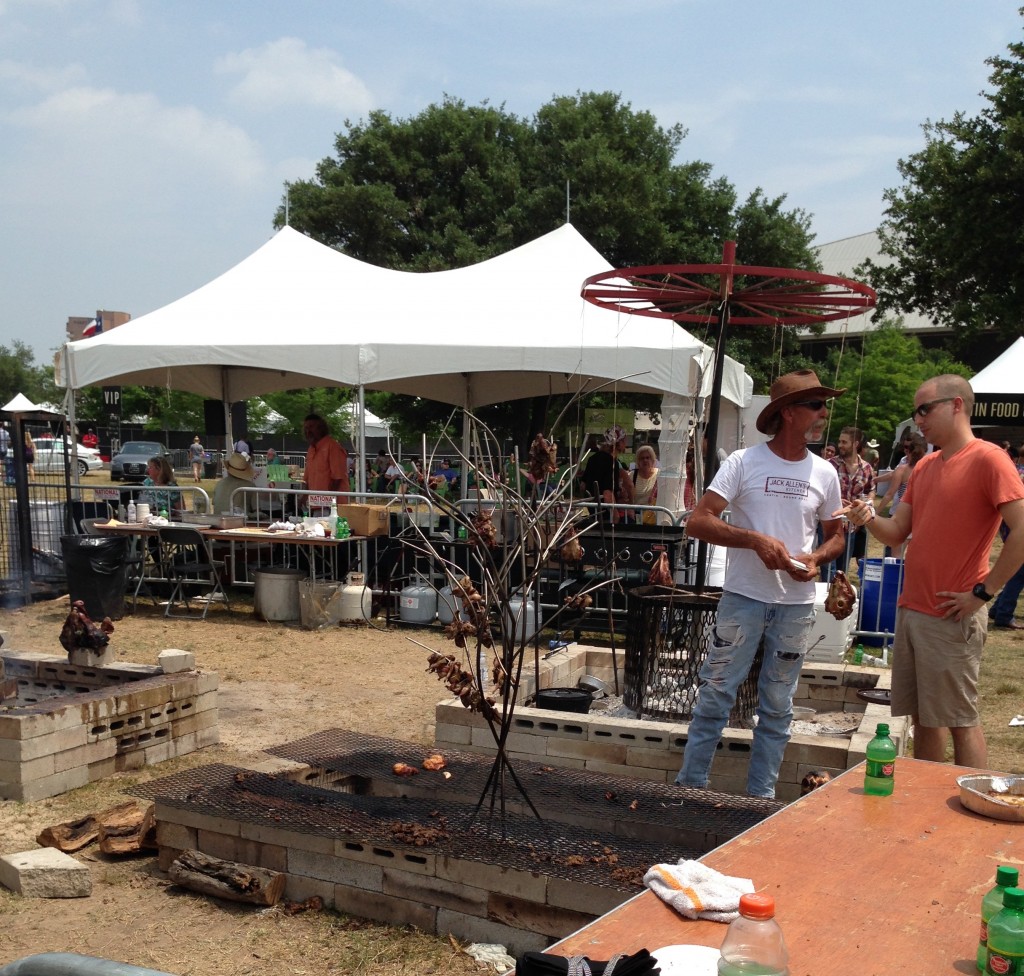 The folks who attend the Food + Wine Festival each year in Austin know to head to the Fire Pit. People are drawn to live fire cooking. It's exciting, fun, and the flavor is unmatched. In his article for Eater Austin Tom Thornton calls the fire pit, "a perennially popular feature." It's fun to watch our top chefs cooking over open flames, and Thornton gets it right, "these bites are usually among the best of the festival — make this a priority."
But the staying power of live fire cooking relies on the its unfair advantage in how food tastes, the "smoky flavor that only burning hardwood can impart."
 
Perfect pizza
Wood-fired pizza is perhaps the perfect example of combining flavor and entertainment. Who can resist the show? The chef slides your pizza into a blazing inferno and it's done in 60 to 90 seconds. You can check out our practical blogs on how to make amazing wood-fired pizza at home, from mixed grain doughs, to scant toppings, to unusual ingredients. It's the memory of pizza in Italy for some, perfect BBQ for others. Once you get hooked on wood-fired flavor, the adventure really begins. BBQ and pizza (not to mention the dream of artisan bread baking) are gateways into live fire cooking. Few chefs resist the satisfaction of going beyond the expected margherita pizza or smoked brisket. Pretty soon it's hors d'oeuvres, cobblers, whole animals, and anything else on hand.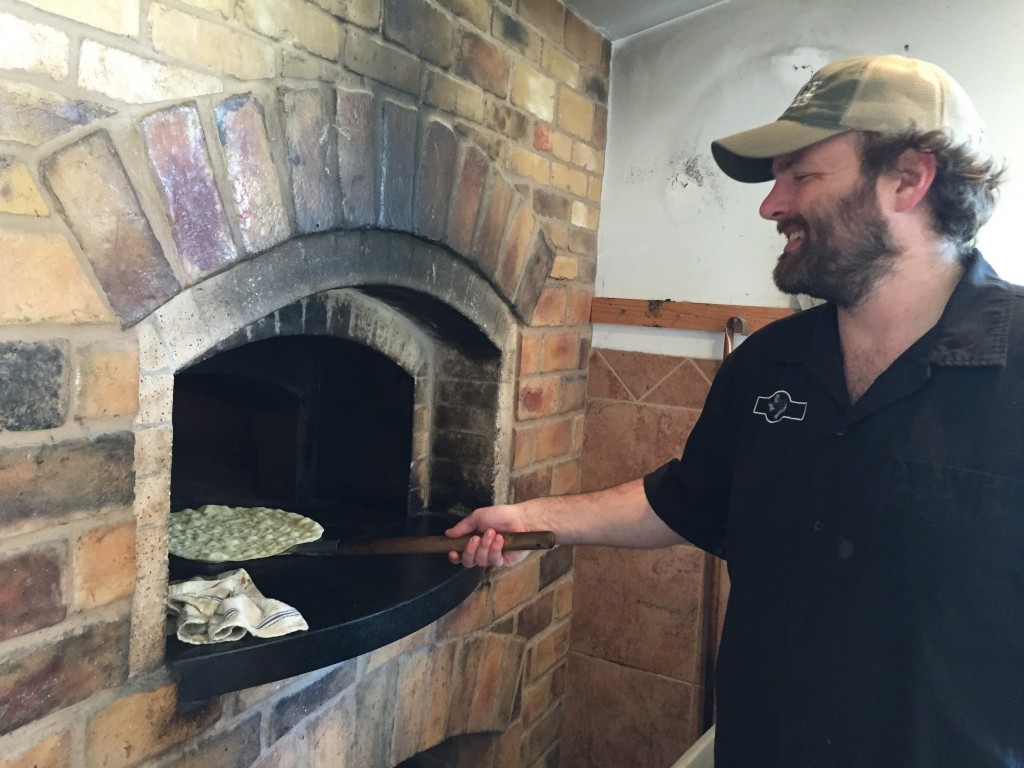 Top chefs testify
Austin has a long live fire cooking tradition thanks to BBQ, but chef Bryce Gilmore deserves credit for being at the front of our live fire cooking Renaissance. Beginning with the wood-burning grill on his original Odd Duck trailer and then the brick and mortar restaurant, plus both iterations of Barley Swine, Gilmore touches food with fire. Veronica Meewes writes of Gilmore in her article The Rise of Live Fire Cooking  "As both restaurant concepts have grown exponentially, a majority of Gilmore's dishes still see fire, from the rustic loaves of bread baked daily in a wood-burning oven to protein dishes like grilled whole quail al pastor with shishito mayo, peach pico, and cashews."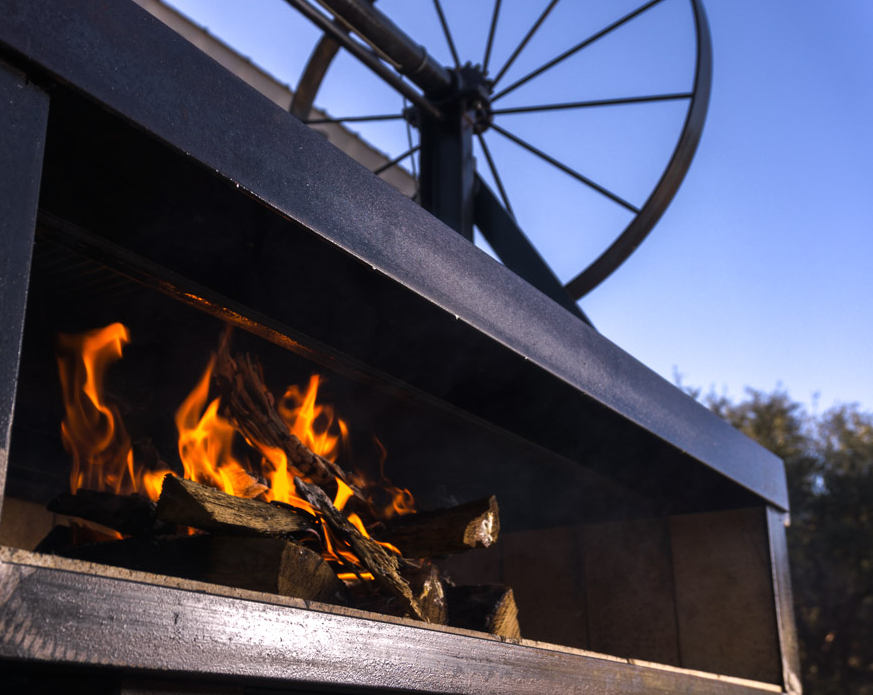 We could fill a page with chef quotes on cooking with wood, but here are a few favorites:
 "Wood-fired cooking is roaring back in a big way. It's not a trend. It's just how they cook in the Old World." (Chef Missy Robbins)
 "Once you start grilling things with wood you never go back." (Chef Lena Brava)
 "You can't substitute the flavour of fire or ember—you can't fake it. And there's something beautiful in keeping the fire going and knowing when to put it out." (Chef Jason Stude)
Live fire cooking beyond proteins
If you follow our blog, you know we're always advocating wood-fired cooking.  It's easy to get stuck doing what you know, and most people associate live fire cooking with grilling meat, or the "pizza oven" equivalent of firing thin crust pies.
"If you want the flavour of fire people tend to think that means just meat, but we don't think that way," (Stude)
It takes a little experimenting to take on the wood-fired gamut: appetizers, breads, veggie dishes, fish, beef, poultry, pizza, cakes and various desserts. It's worth the effort! Take small forays into the unknown or dive in, but light a fire and get cooking. The flavor results are worth it.
Winner winner chicken spinner
Speaking of adventures in live fire cooking, we love to work on custom projects for our customers. Beyond the basics ovens and smokers, these days some of our most creative wood-fired appliances are high-end grills. Occasionally we do something really fun like this multi chicken spinner designed for Chef Jack Gilmore. You might have seen it at the Food + Wine Festival along with other wood-burning contraptions on his "fire truck," a renovated Super Pumper fire truck.
Texas Oven custom builds wood-fired appliances like the chicken spinner, along with our regular line of live fire cooking equipment: Argentinian grills, smokers, bread ovens, mobile pizza ovens, restaurant and residential grills and ovens. We know what it takes to build exceptional live fire cooking equipment because we cook in the ovens, grills and smokers we make.
Live fire cooking and philosophy
Cooking with live fire—whether it's a roasting stick over a bon-fire, Burgers on a grill, pizza from the oven, brisket fragrant from a smoker—they all put you in touch with cooking essentials: managing fire, experimenting with heat, capturing  flavor. The live fire cooking movement reminds us of the undefinable good feelings associated with food and fire: warmth, community, and family. Standing before a fire, preparing food for family and friends, is an act of love. It's authentic, it's transformative.
We saved our favorite quote for last. Who could say it better?
"Live fire cooking is the ultimate mastery of temperature control—which is the foundation of cooking—to manipulate texture and flavor… We try to use the grill as much as possible. To be honest, we'd probably grill everything if it could be done. The depth of flavor is much better and it's way more fun." (Gilmore)
Social Share