Shoutout for peaches
It's hard to say enough about peaches during the peach season here in Texas. Just the names of the freestones ripening now—Flame Prince, Jersey Queen, Dixieland, Parade, Big Red—tempt me to drive up to Fredericksburg and Stonewall to pick-my-own or get a taste comparison of the varieties ripening now.
During peach season last July, we posted a blog  featuring a few of my favorite peach recipes prepared on a wood-fired oven: peach salsa, charred peach ice cream, and roasted peaches with mascarpone. If you haven't tried the brisket tacos with peach salsa, this is the time to do it!
The 2016 peach blog showcases sweet and savory chicken wings and tests a peach cobbler recipe given to me by a friend who's an expert on peach cobblers.
Peach capital of Texas
Stonewall is known as the peach capital of Texas. Growers say peaches grown in Stonewall and Fredericksburg taste so good because of the elevation, the climate, and sandy soil in Gillespie County. "While the Tyler area still produces its share of the blushing fruit, it has dropped to number two in the state in production. The leader is now the renowned Gillespie County, which has the kind of dirt (red-clay subsoil topped with potassium-rich sandy loam) that peaches love."
Find the perfect peach
Here in the Austin area we can buy peaches from Fredericksburg at farmers' markets, in the local grocery stores, and at roadside stands. The season winds down in mid-to late August, so we have a few weeks left to enjoy peaches at their prime. If you buy them at the market, they should feel soft but not mushy. If they feel a bit firm, they will ripen in a few days at room temperature. "Distinguishing a good peach from the bunch depends on your sense of smell. A flavorful peach has a sweet, flowery smell. Sometimes, in fact, a peach can look like the pits, but taste superb."
Wood-fire roasting to the rescue
If you've ever been disappointed with peaches that lack flavor, one food editor states, "Sad peaches are so very disappointing. I'd suggest grilling or roasting them to caramelize their sugars." That's why we feature peach recipes in our July blogs. Roasting peaches in your wood-fired oven gives a boost to bland fruit, and roasting enhances already flavorful fruit, as you'll discover. Finally, roasting is a great way to repurpose peaches that have ripened beyond eating out of hand.
Peach and Spicy Chicken
Years ago at a Benaglio vs. Gilmore charity throw-down, a couple chefs were cooking massive batches of wood-fired wings. Delicious! I've been wanting to try making wings and drumsticks in my oven ever since. This epicurious.com recipe for peach-lacquered chicken wings was the final nudge I needed. I decided to try drumsticks first and lowered the sugar by replacing the peach preserves with roasted peach purée.
For the sauce, purée in food processor:
3 garlic cloves
1 piece (10-12grams) fresh ginger
3 roasted peaches
1/3 cup soy sauce
1/4 teaspoon hot red-pepper flakes
Set aside a little bit of sauce to serve with the chicken. Use the remainder of the sauce to baste the chicken once or twice while it is roasting.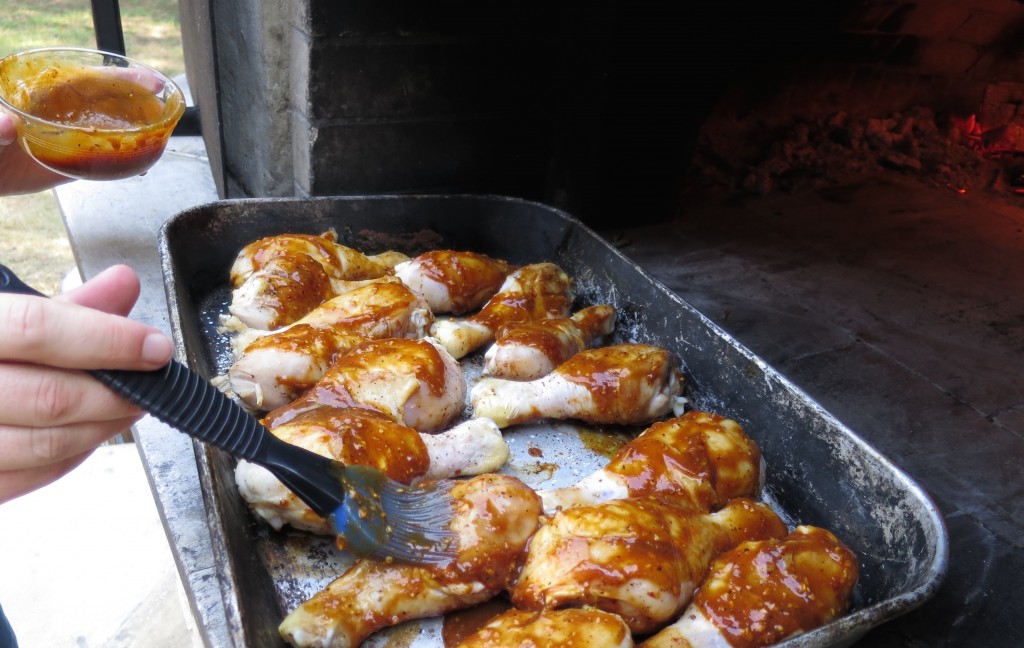 Roast chicken 5 pounds of drumsticks or wings: First, rinse and pat dry the chicken.
Rub with oil and lightly season with salt and pepper

Coat chicken pieces with peach sauce.
Roast until internal temp is 185°. (Rotate, re-baste and flip periodically.)
These drumsticks had a beautiful, sweet and spicy lacquer. The fresh ginger added a bit of heat, the fire-roasted peaches added plenty of sweetness without needing extra sugar.
Cobbler competition
Stonewall holds the JAMboree each June to kick off the peach season—lots of judging of peaches, jams, preserves, pies and cobblers. The cobbler competition has rules: "No pie or cobbler can include ingredients that require refrigeration, like cream cheese, and entries are disqualified if the taste of peaches is overwhelmed by, say, too many almonds or, in the case of one entry a few years ago, Red Hots."
Texas take on Georgia-peach Cobbler
That brings us to the gold star peach cobbler recipe recommended by Hannah. She went through a peach cobbler phase testing recipes weekly to find the best vehicle for local Texas peaches. Her favorite after a summer of rigorous testing was a twist on this Fresh Southern Peach Cobbler. She doubled the topping recipe for a great topping-to-peach balance. With the chilled butter, the folks in Stonewall might not approve, but the result is delicious!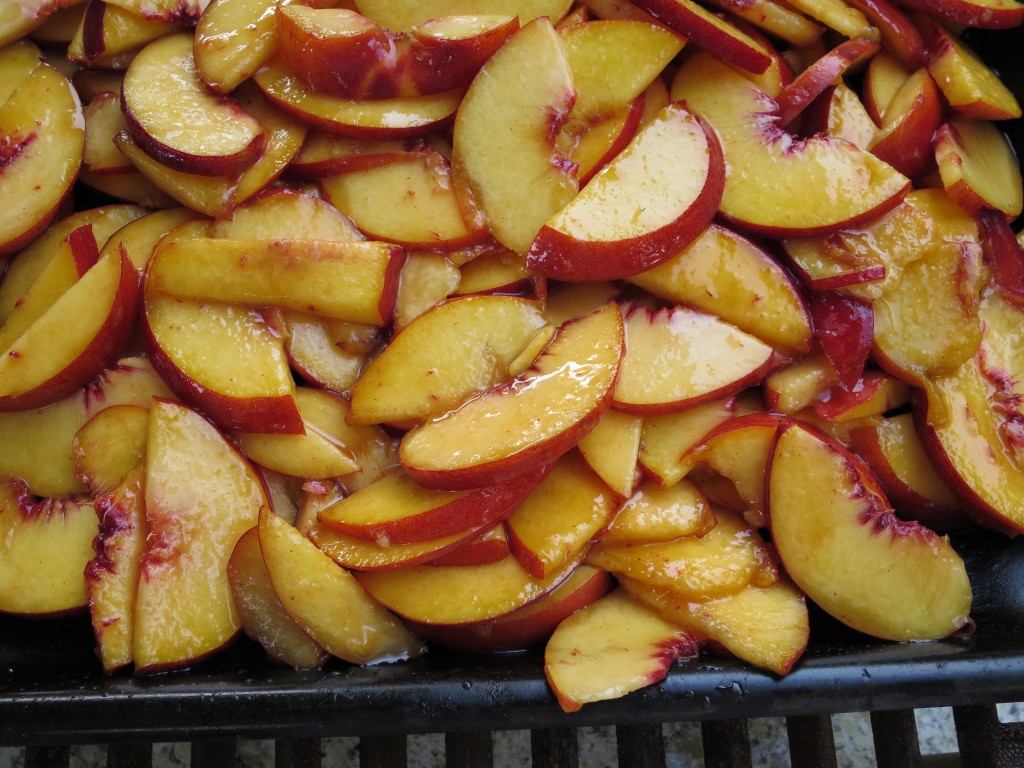 We modified the Southern Peach Cobbler recipe in four ways:
Roasted peach/sugar/spice mix in a shallow pan to maximize flavor
Doubled the crust recipe per Hannah's recommendation
Left off the sugar topping because the wood-fired oven provides a beautiful caramelized crust
Reduced the baking time by half thanks to the efficiency of wood-burning ovens.
Social Share