What are Hasselback potatoes? Combining the creaminess of a baked potato with the crispiness of a fried one, they might be the most delicious spud you'll ever taste. Striking in appearance, Hasselback potatoes add a touch of culinary elegance, yet they are simple to make. I've included pictures of Hasselback potatoes made with sweet and gold potatoes in my wood-fired oven along with russet ones prepared in a conventional oven.
Who is Hasselback?
Actually, it's not a who but a what/where question. Hasselback potatoes came into existence in Stockholm, Sweden at the hotel Hasselbacken. The hotel opened as a tavern in 1798 and today is famous with tourists fine dining, and ambience.
Distinguished cut
Hasselback aficionados debate the first time these dressed up spuds appeared. The team at Culinaria credits Leif Elisson for the creative knife work.
It was in 1953, when student chef Leif Elisson took his creativity into potato preparation. He simply cut them halfway through in small slices, making what looked like an accordion or fan. Roasting them in the oven with butter resulted in a crispy skin and creamy interior, an elegant display worthy of fine dining. They were called Hasselbackspotatis.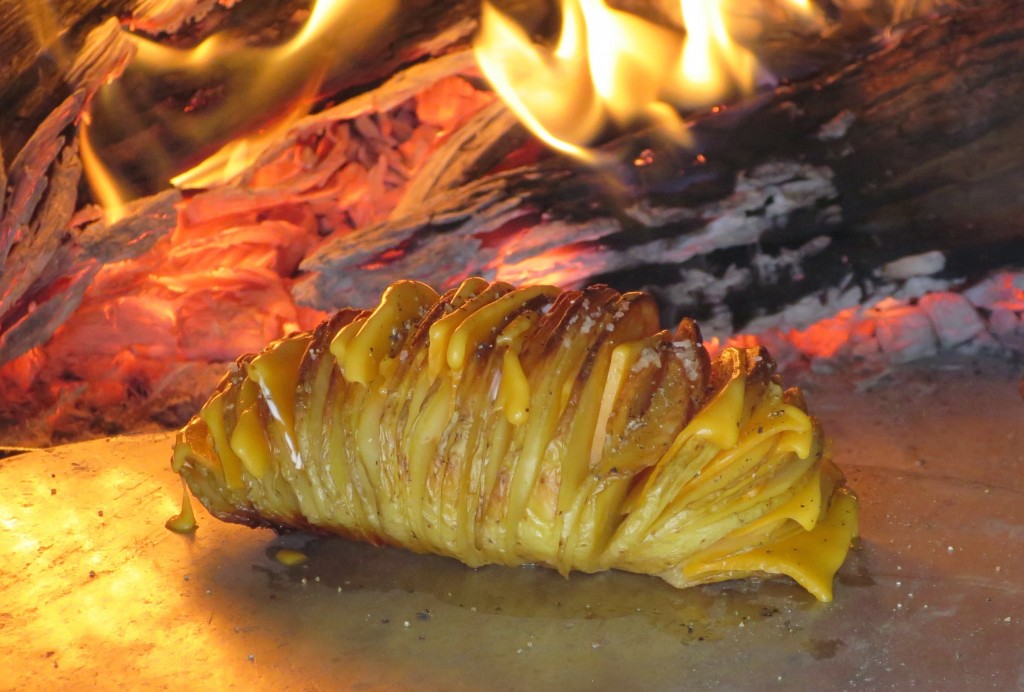 Few argue over the beauty and functionality of Hasselbacks. The thin potato slices hold butter, salt and pepper during baking and give the perfect balance of crunch and creaminess.
Hasselback hack
We tested several slice techniques and depths. Deep cuts create the most dramatic fan and maximizes cooking surface area. The danger is cutting all the way through the potato, but that is avoidable with focus. A quick hack it to set a wooden chopstick on either side of the potato to create a knife block. After one or two, I didn't find this to be worth the effort or the wear and tear on my knife. But it is a great way to get the hang of this cut.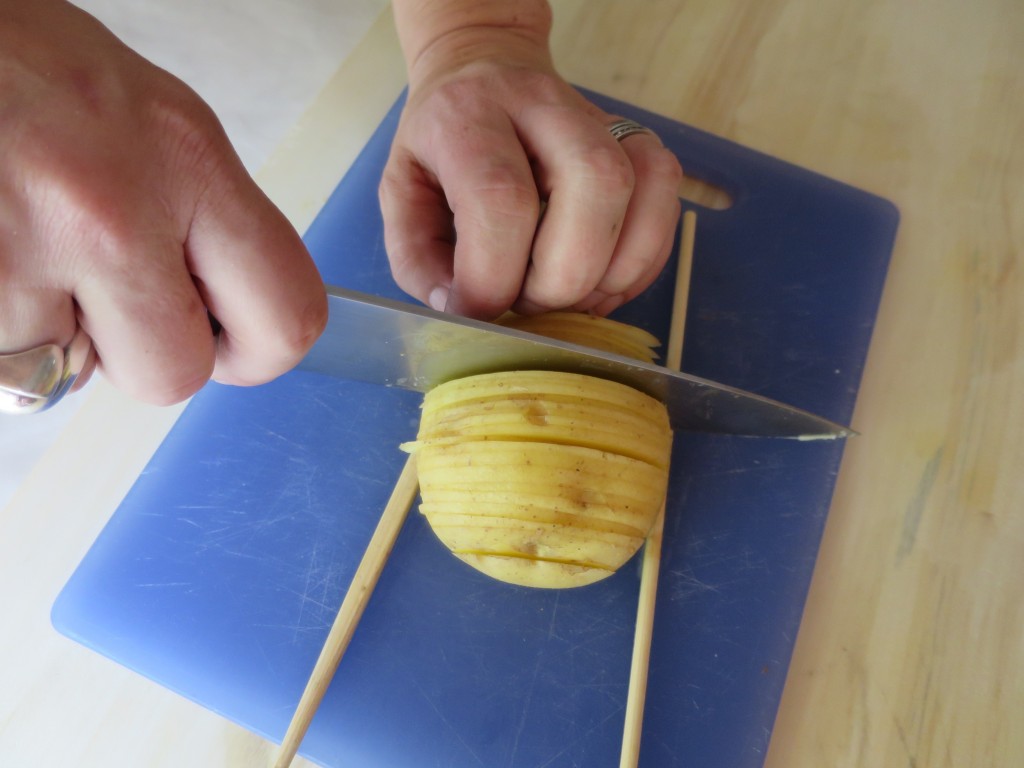 Hasselback potatoes—sweet side
To make beautiful sweet potatoes Hasselback-style, consider cutting slightly wider slices since sweet potatoes tend to be more fragile. Or, cut them paper thin and serve these as an appetizer where guests can tear off a sweet potato petal.  This version features butter, Parmesan cheese and rosemary.
Loaded Hasselbacks
For a wood-fired show-stopper try Hasselback potatoes made from creamy golds. It's a great way to prepare potatoes for guests. Bake the potatoes ahead of time, let them cool, gently spread the potato slices, add  fillings: cheese, garlic, bacon bits, sour cream, chives. Then slide them back in the oven for melting and crisping just before you serve. (See our previous blog for more beautiful oven-roasted potatoes.)
Conventional bake
These are worth making even if you don't own a wood-fired oven so we tested russets in a conventional oven at 400°. The Hasselback russets pictured below were baked in a conventional oven with an au gratin sauce. The fan-cut potatoes baked in a lightly oiled dish, dressed with a sauce of sour cream, grated cheddar, garlic salt, and fresh thyme. The potatoes baked under foil for an hour at 400 then baked uncovered to crisp for another 30 minutes. They were delicious–just missing the additional flavor that results from wood-firing.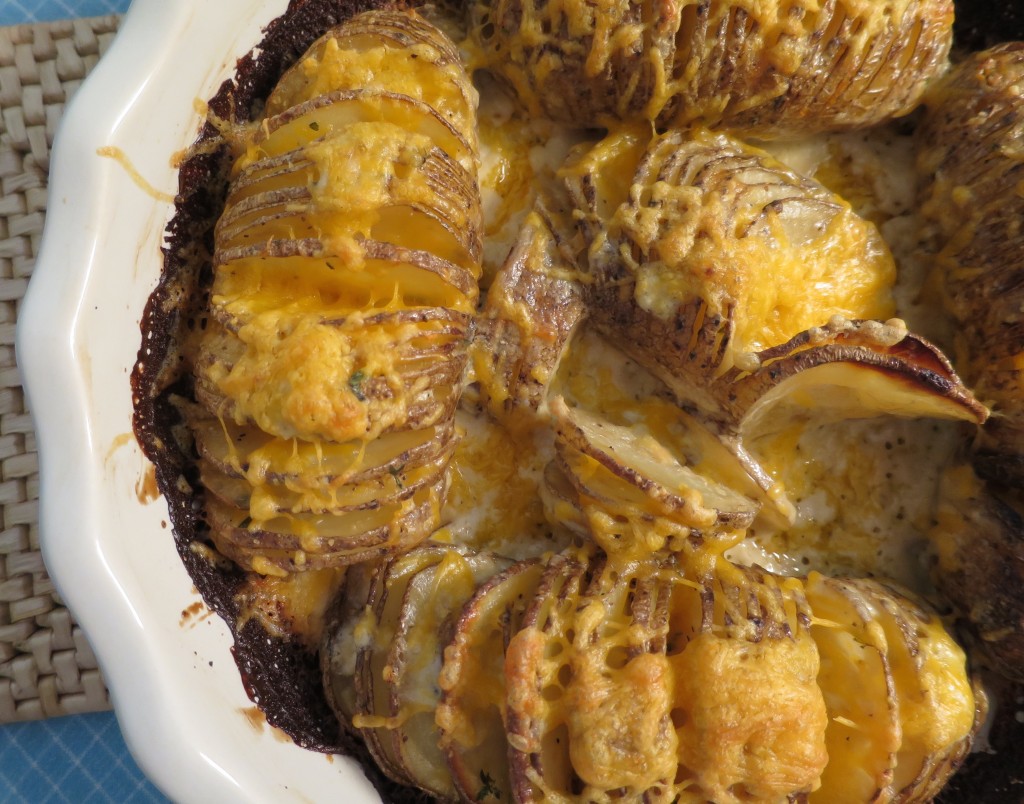 Social Share