Falling for a fall favorite
At risk of alienating the PSL crowd, when I look forward to fall flavors, pumpkin spice lattes aren't the first food on my mind. As nights begin to cool, I'm thinking about roasted pecans. This pecan panegyric from CNN iReport, praises pecans in language more like poetry than prose. Roasted pecans deserve attention (as do pumpkin treats beyond the PSL, like pumpkin spice breads and pumpkin cream cheese desserts). Often available as part of a nut mix, roasted pecans hold their own as a fall star. As harvesting approaches, it's the right time to fire up the wood-burning oven to experiment with fire roasted pecans.
Why eat nuts?
For lots of reasons, the main one being they're delicious.  Many nuts, like eggs,  provide a beautiful balance of nutrients, a mini meal in a shell. Right out of the shell, they're good. When they're roasted, they're great. When they come out of  a wood-fired oven, they're unbeatable.
Nuts are high in protein, good fat, anti-oxidants, and fiber. With a high fat content, nuts are satisfying. The high fat of nuts makes them stable in heating, unlike vegetables that lose some nutritive value in cooking. So properly roasted nuts are a healthy, satisfying, snack that's easy to fix in your oven.
Texas pecans
In 1919 the Texas legislature made the pecan tree its state tree. Roasted pecans make sense in Texas which is the nation's second largest producer of pecans, following Georgia.  Texans love pecans and the lore of family recipes for pecan pie, pecan candies, and snacks. The harvest begins as early as mid-September, if the tree is an early bearing variety like Pawnee. Some folks say to keep an eye on the crows. When they begin snagging nuts from the highest branches of the tree, harvest time is near. The crows seem to know when the nuts are ready. From a grower's perspective, the greenish hulls that encircle the nut begin to change color and split open to release the nut. Nut fall is a big event for growers as a new crop of pecans brings the best price between Thanksgiving and Christmas with holiday baking and gift giving.
Why roasted pecans?
Roasting draws some of the natural oil from the interior of the nut to the surface. When exposed to heat, the oil creates a deeper color in the nut and intensifies its flavor. Roasting is key enough to flavor that if your recipe called for roasting the nuts (and sometimes even when it doesn't) be sure to take this important step. Also roasted nuts are crunchier, and the crunch factor ranks high in snack food.
Dry roast?
It depends on what you're after. Dana Velden at kitchn suggests roasting nuts with a matching oil: walnuts with walnut oil, and almonds with almond oil, except if you plan to use the nuts for baking. She dry roasts nuts that will be baked in cookies, breads, cakes because the oiliness can "throw off a recipe." Other nuts she tosses  in a small amount of oil and roasts them in a conventional oven set to 350 until the color is right.
Oven temperature for roasted pecans
In general, experts recommended roasting nuts at lower temperatures, 350 or lower, because they can scorch or burn quickly. Roasting pecans is another application where the real-estate in your oven will come into play. There is plenty of room to spread nuts out on baking sheets, and space to move trays and their contents around for even roasting.
In a wood-fired oven, roasted pecans work on the down cycle (on day two or three after a fire depending on how well your oven holds heat) or with a small fire. This photo shows a few smoldering coals maintaining an oven temperature between 200 and 350° toward the front of the oven. As the new wood catches, the temperature will go up and we will pull the pan away from the fire toward the oven entrance to keep the temperature in the right range.
All the sites we checked discuss roasting in a conventional oven where the temperature is fairly uniform and controlled. As with all cooking in a wood-fired oven, the oven temperature will vary depending on location, even on down-cycle (lower temperature) cooking. It puts the chef in charge, and not the timer. That means watching for color change, shaking the pan to redistribute the nuts for even cooking, moving the pan to cooler areas to slow down the roast. Keep an eye on color change. Be careful as color goes quickly from one shade to another — even down to burnt. The taste of home-roasted pecans with a touch of smokiness is worth the watchfulness.
Folks at kitchn stress removing the nuts from the cooking tray to platter for cooling, otherwise the heat of the cooking tray will scorch the nuts. If found that my collapsible cooling rack and perforated mesh pizza cooling screens worked beautifully to quickly cool the roasted pecans.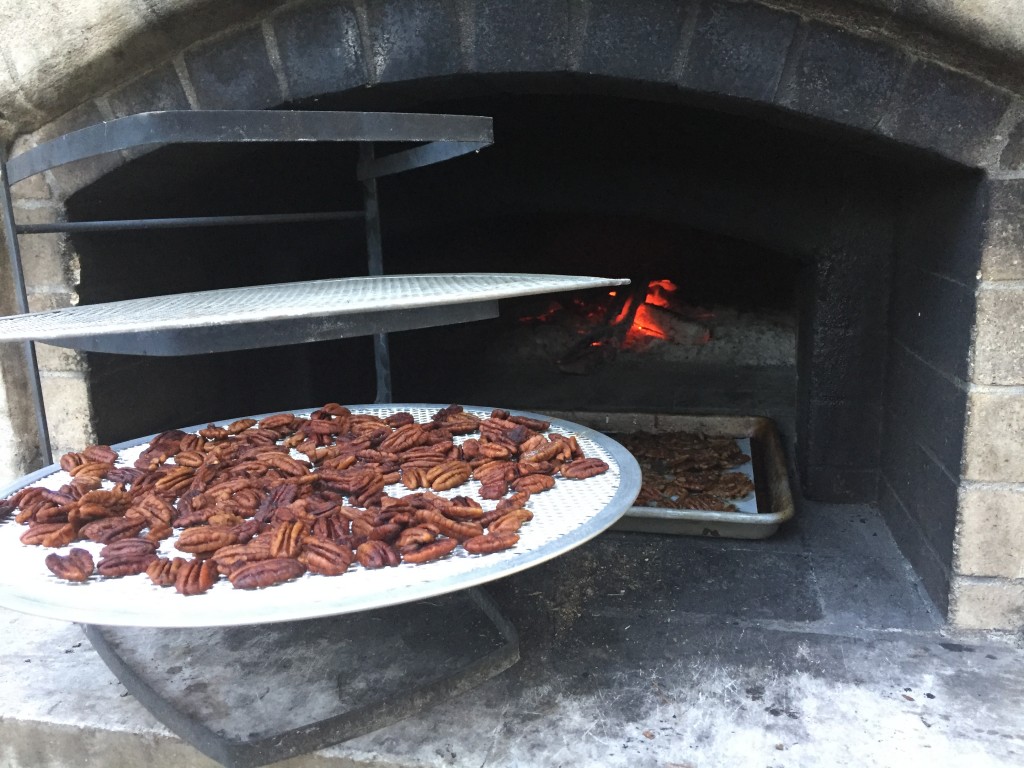 Brining for perfect roasted pecans
For serious lovers of perfectly roasted nuts, salting is key. How to get the salty taste that's needed without the salt falling off the nut? Lucy Baker in her recipe for Maple-Rosemary-Bourbon Pecans soaks the pecans for 15 minutes in a brine solution then drains them in a sieve before roasting them.
Brining nuts goes beyond flavor. Anyone familiar with Sally Fallon's book Nourishing Traditions already knows about the role salt water plays in increasing the digestibility of nuts. For some people, brining puts nuts back on the menu. I like to use Sea Salt Powder for making brines. The very fine salt dissolves quickly (and is perfect on popcorn too).
Double salting (Oregon Cottage)
Adding salt before roasting helps ensure great flavor, but you can adjust saltiness after removing the roasted pecans from the oven. Taste the freshly roasted pecans and add salt (or flavored salt) to taste while the pecans are still warm.
From Jami at Oregon Cottage comes similar salting idea. She dissolves salt in water and coat the nuts before roasting them. After they've finished roasting, she douses them with a little oil and a few shakes of salt for additional flavor. Jamie says, "Roasted nuts taste amazing…I had no idea there would be such a difference between home-roasted almonds and store-bought."
Roasted pecan recipes worth trying
I recently read Kirsten and Christopher Shockey's newest book Fiery Ferments, Hot Sauces, Spicy Chutneys, Kimchis with Kick and Other Blazing Fermented Condiments. It's much more versatile than the title might sound. Not everything it is must be blazingly hot. In fact, the book provides a great gateway for fermented foods. Incorporating fermented foods in your diet by building them into your condiments is easy. What does that have to do with roasted pecans?
Their recipe for Butter Pepper Pecans caught my attention. Here is their description, "Addictive. Crazy butterly, salty, spicy addictive. We tested this recipe more than was necessary because they are just so good." (p. 218) This sums up how a bowl of roasted pecans should be, hard to resist.
The recipe calls for some of their Vanilla Habanero fermented pepper mash, or any other fermented pepper mash you have on hand. Thanks to our blog on poblano peppers, I had a lovely fermented mash made from the smoked-poblanos, so we tested the buttery roasted pecan recipe with a smoky poblano kick.
Buttery roasted pecans
With our without the spiciness, you can't go wrong with roasted pecans tossed in butter. For sweet or savory roasted pecans, this basic formula is a great base.
2 cup water
1 tablespoons extra fine salt (you can get it on Amazon)
4 cups raw, unsalted pecans
1/4 cup butter, melted
Bring water to a boil and add salt. Whisk until salt dissolves. Add pecans and let soak at least 15 minutes (or over night). Drain pecans. Melt butter in saucepan. Remove pan from heat and add pecans. Toss to coat. Spread pecans across a baking sheet and roast at low temperature until crisp and slightly browned. Remove from heat, add more salt if needed, and add any additional sweet or savory flavors.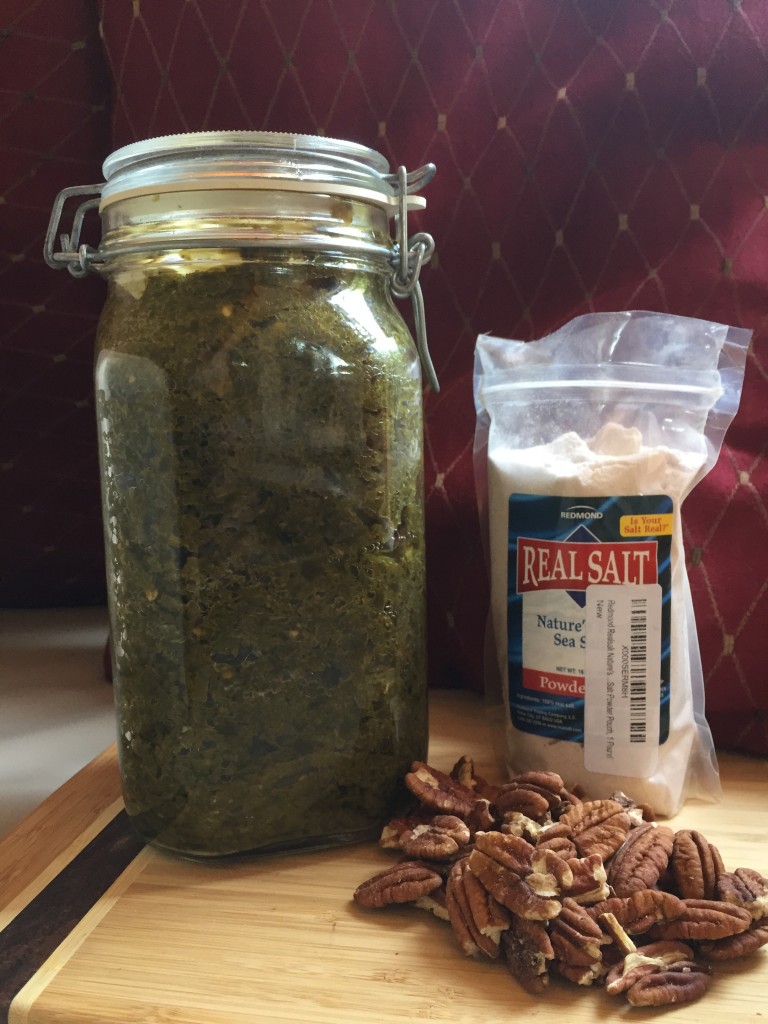 Spicy roasted pecans with fermented smoked poblano mash
Buttery Pepper Pecans follow the melted butter approach above but add fermented pepper mash to the melted butter before tossing the pecans. The smoked poblano mash adds several levels of complexity to the roasted pecan flavor. The mild smokiness is classic, the late (mild) heat makes them addictive.
Our variation on the book recipe uses less pepper mash (since ours had a smoky heat rather than a sweet heat from habanero and vanilla).
1batch of buttery roasted pecans (from above)
1 tablespoons fermented smoked-poblano mash
After melting butter, let cool slightly then whisk in poblano mash.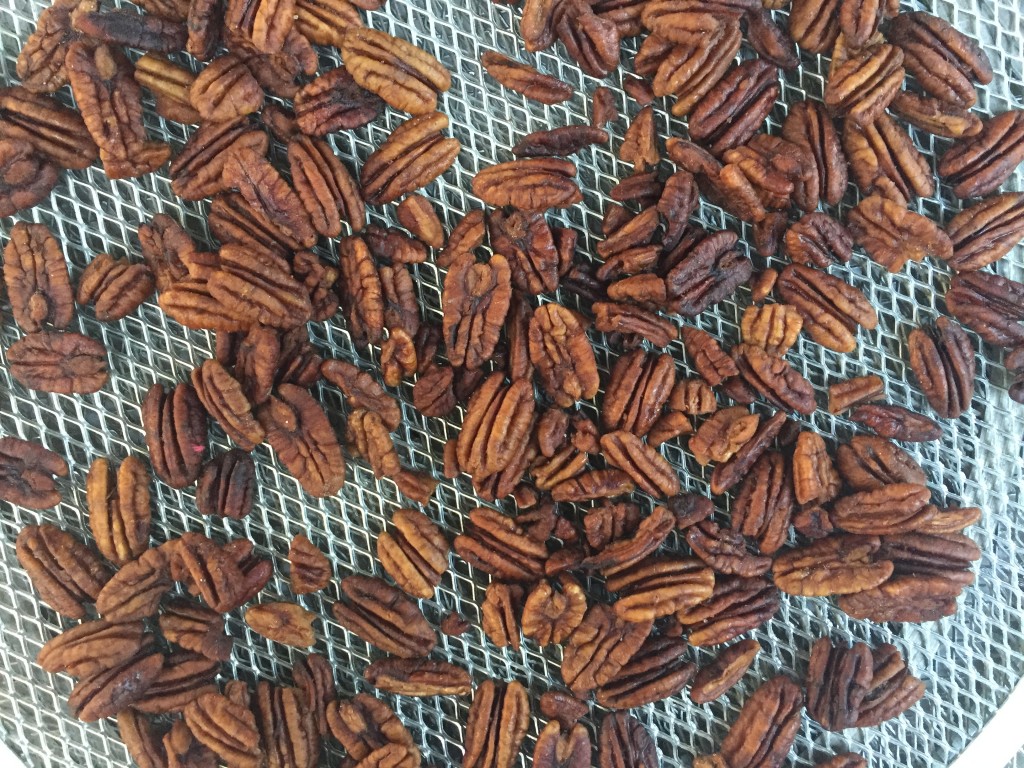 Lightly sweet bourbon and rosemary roasted pecans
Inspired by this recipe for Maple Rosemary Bourbon roasted pecans. I made a batch that was less sweet but respectful of the original flavor combinations.
3 tablespoons bourbon
2 tablespoons maple syrup
1/3 cup erythritol
2/3 cup water
2 tablespoons kosher salt
2 medium springs fresh rosemary
3 heaping cups raw, unsalted pecans
Mixt all of the ingredients except the rosemary and pecans in a sauce pan. Bring to a boil and stir until salt dissolves. Add the rosemary sprigs and take off the heat. Let steep for 5 minutes. Remove the rosemary and add the pecans. Let the pecans soak for 15 minutes, then drain through strainer. Spread drained pecans across a baking sheet in an even layer and roast at low heat until crisp and brown.
Time for gifts
Serious Eats has has three tempting recipes for roasted nuts. What an easy make-ahead gift for others who enjoy sharing food and recipes. From Thanksgiving dinners to Super Bowl parties, any cool weather gathering could use some fire roasted pecans.
Social Share