Do you like Brussels sprouts? Lots of folks don't, but they've gained popularity lately as more people are frying, sautéing, and roasting Brussels sprouts instead of boiling, steameding, or micro-waving them. Roasting Brussels sprouts and other cruciferous veggies transforms their taste. Many of my friends who were former Brussels sprouts haters now love them, especially with sauces and dips like the ones in this blog. They have become one of my favorite foods to demo in a wood-burning oven.
The Magic of Roasting Brussels Sprouts
Roasting gets rid of the strong cabbage-like aroma associated with cruciferous vegetables. The phytochemical sulforaphnae found in this family of vegetables creates a noticeable aroma when the vegetables are cooked with water. It's a necessary phytochemical, however, and that's why it's good that roasting cruciferous veggies mellows its aroma. The folks at Williams Sonoma point out that roasting  vegetables concentrates their flavors, caramelizes their natural sugars and tenderizes their interiors.
"Cooking vegetables helps break down the fibers they contain, which makes them easier on the digestive system because they're already partly broken down. You don't have to boil the life out of everything you eat; it's fine to steam, sauté, or roast them so long as they're well-done at the end." (How to Make Vegetables Easier on Your Stomach)
Even though you can't learn the skill of roasting by reading a recipe, roasting is easy. It just takes a little practice depending on the temperature of your wood-fired (or conventional) oven.  I've prepared great tasting vegetables in a conventional oven, but I prefer the wood-fired oven because of its high heat and unique flavor it imparts to what's cooking.
Roasting Brussels Sprouts Basics
We halved fresh little Brussels spouts, tossed them with olive oil, salt, and pepper. Then we placed them in a hootel pan and slid them into the hot oven. We kept the initial dressing simple so that we could experiment with several finishing flavors on a single batch.
With a hearty flame burning, it didn't take long, but here's where experience comes in. Have fun experimenting with different heat zones in the oven, and check for done-ness frequently.
Try them close to the fire in a high-heat roasting environment to get nice crispy edges that mimic popular fried Brussels, or keep them in a moderately hot area for a slower roast with less color.  We pulled these out when they had crispy exterior leaves and were fork tender but not mushy.  This picture conveys the best of roasted Brussels sprouts: crispy edges, soft interior yet maintaining shape, glisten of oil, sprinkles of kosher salt and freshly ground pepper.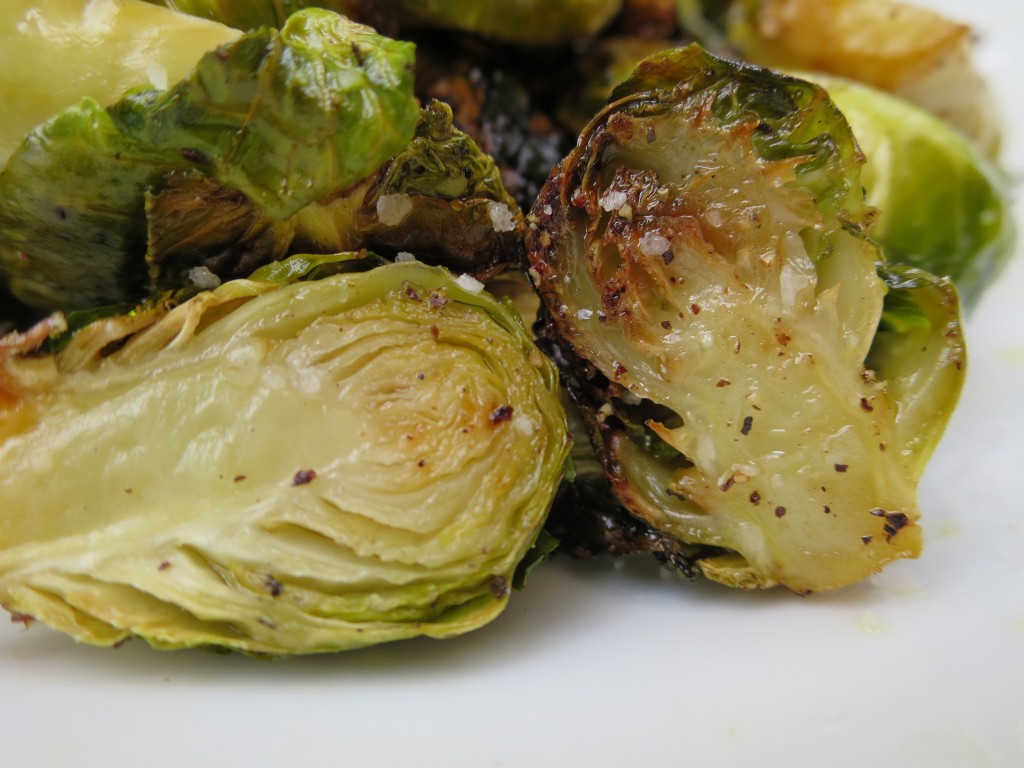 Roasting Brussels Sprouts 3 Ways
Frest out of the oven these make great appetizers, especially served with a tangy Béarnaise-style dip. For a side dish, toss the roasted Brussels sprouts in a sweet-spicy sesame dressing, or a creamy whole-grain mustard sauce with bacon.
Béarnaise dip
Make a basic Béarnaise sauce with champagne vinegar and chill. Chilled, it will feel like a compound butter and retain the unctuous texture with a balancing note of acidity. Watch out, these are addictive.
Sweet and spicy
The Crispy Brussels Sprouts with Chile Caramel at Uchiko in Austin have a cult following. Bon Appétit featured a recipe in response to reader requests. A quick search on Pinterest yields many versions of these sweet, crispy treats. The Steamy Kitchen blog has a great video on roasting Brussel's sprouts and tossing them in the Uchico-style sweet chili sauce. These work beautifully roasted in your wood-burning oven. Jaden Hair explains, they will make a fan out of former Brussels sprouts skeptics.
Whole-grain mustard and bacon dressing
You can make the mustard dip mellow or spicy, as Brussels sprouts go well with either. A basic preparation is to render bacon in a skillet (this is uncured turkey bacon browning in butter) and mix in whole grain mustard like Maille. Roasting Brussels sprouts in the bacon, mustard gives them a smoky, peppery depth.
You can make a milder dip with 3 parts sour cream, 1 part chopped crispy bacon, and 1 part Maille old-fashioned mustard.  It is delicious on the roasted cauliflower, too.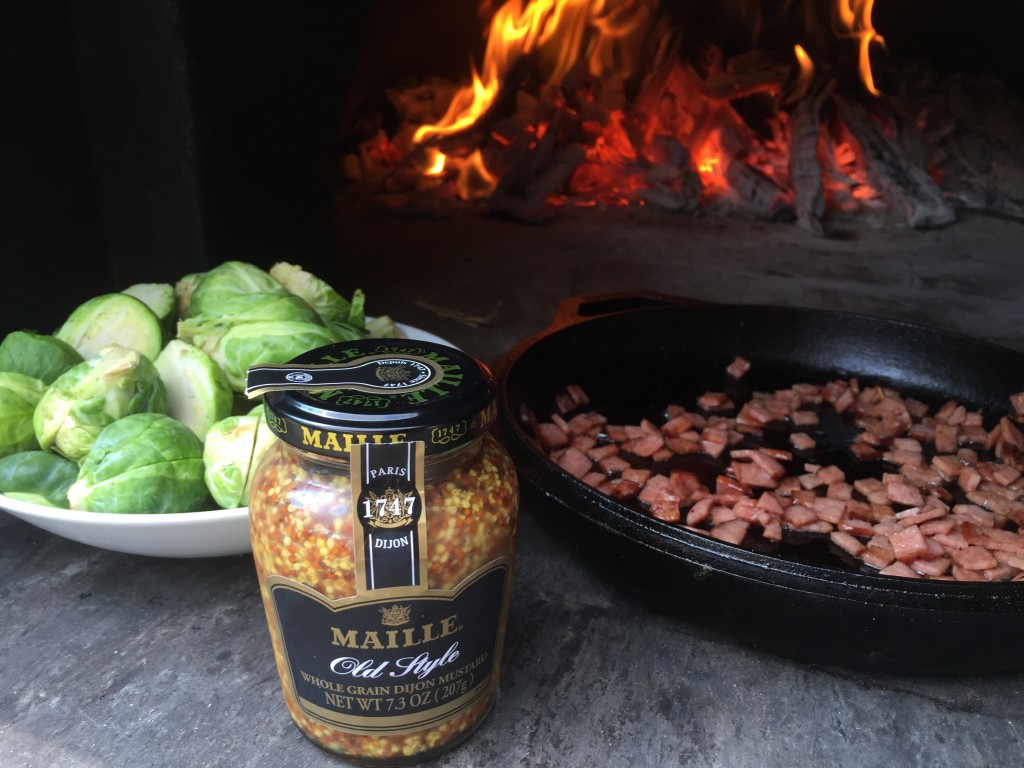 Cruciferous at High Temps
The beautiful purple and gold cauliflower, tossed with a little olive oil, salt and pepper, roasted quickly at high heat, close to the flame.  The veggies cooked quickly with slightly browned edges and great interior. They lost all taste of bitterness. Because high heat roasting is dry heat, the sulfurous aroma is not present, just nice wood-fired flavoring. The heat in a wood-fired oven radiates evenly. I rotated the pan once, so all the florets cooked to the same tenderness.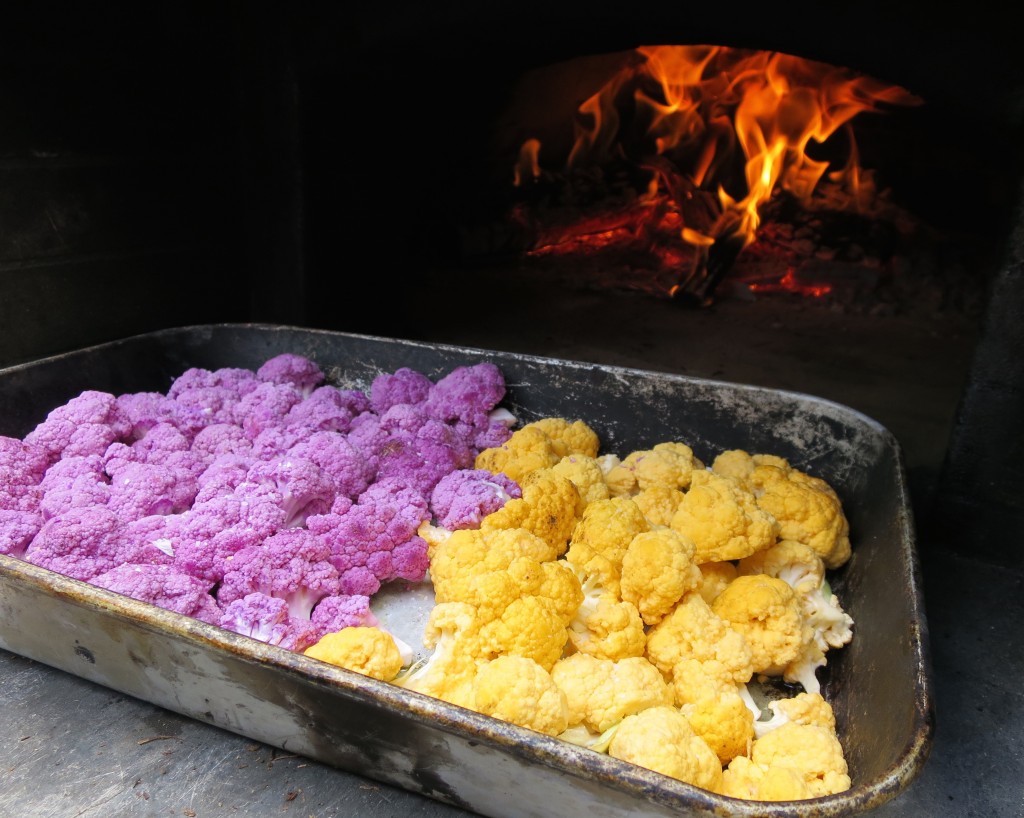 The florets maintained their shape and their gorgeous colors. The high heat and browning intensified both the gold and purple shades. The cooked cauliflower tasted great with mellow mustard dip. The roasted cauliflower made a beautiful side dish and leftovers will make better than average cauliflower "rice." Check out our blog dedicated to cooking cauliflower in a wood-burning oven for the rice recipe.
Social Share