Spaghetti squash
Spaghetti squash tops the list of delicious low-carb vegetables. Because of its mildly sweet flavor, ease of preparation, versatility, and delightful characteristics, it is both a favorite side-dish and a favorite main dish.
Vegetable of fruit?
Spaghetti squash is a winter vegetable that weighs 2-6 pounds. The squash are a lovely yellow to golden color and resemble a fruit. "Botanically, squash are fruits because they contain the plant's seeds, but they're cooked and eaten as vegetables" (Healthy Eating SFGate.com)
Cooking spaghetti squash
Whether you call them a fruit or a vegetable, try roasting Spaghetti squash in your wood-fired oven. Prepare the squash by cutting it in half and removing the seeds. (See our blog about toasting seeds and nuts.) Place the halves hollow-side up on a metal tray, and fill the cavities with lots of butter or drizzle with oil. Salt and pepper the squash, turn squash over, and slide the tray into a moderate to roasting zone (300-500°). Let it bake until tender with some visible roasting color.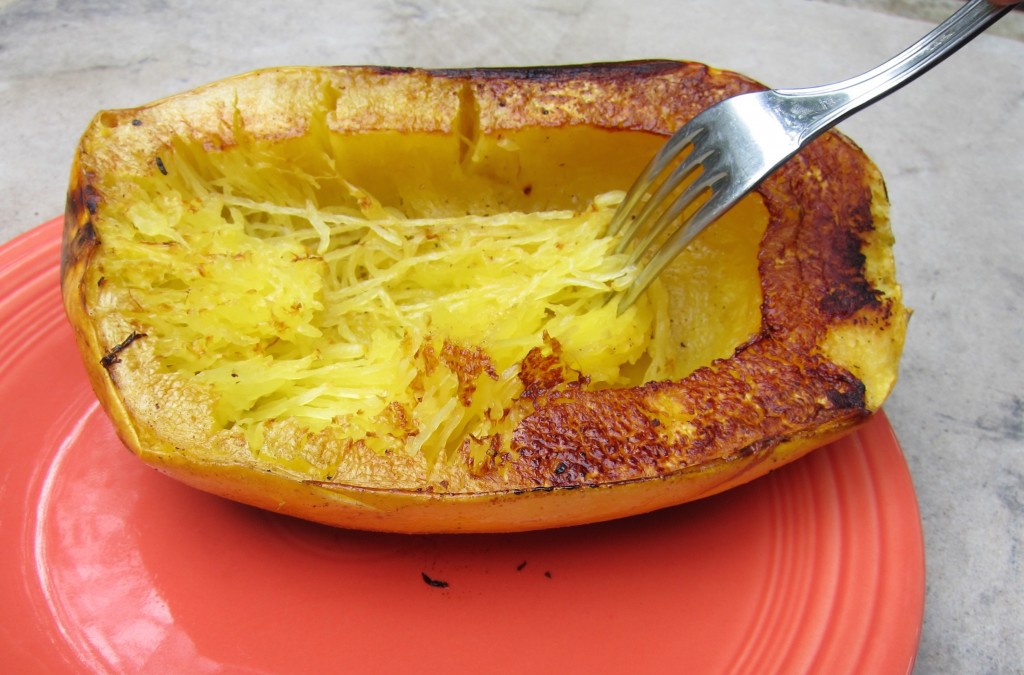 When you drag a fork over the cooked flesh, it pulls away from the rind in spaghetti-like strands. It's a mildly flavored substitute for noodles and pasta. It's a great base for spaghetti sauce and meat balls, for parmesan cheese and herbs, and for alfredo sauce.
Sometimes I serve the squash plated more formally by separating the squash from the rind and moving the "noodles" to the plate. Other times I fluff up the flesh and serve it in the rind for a more rustic look.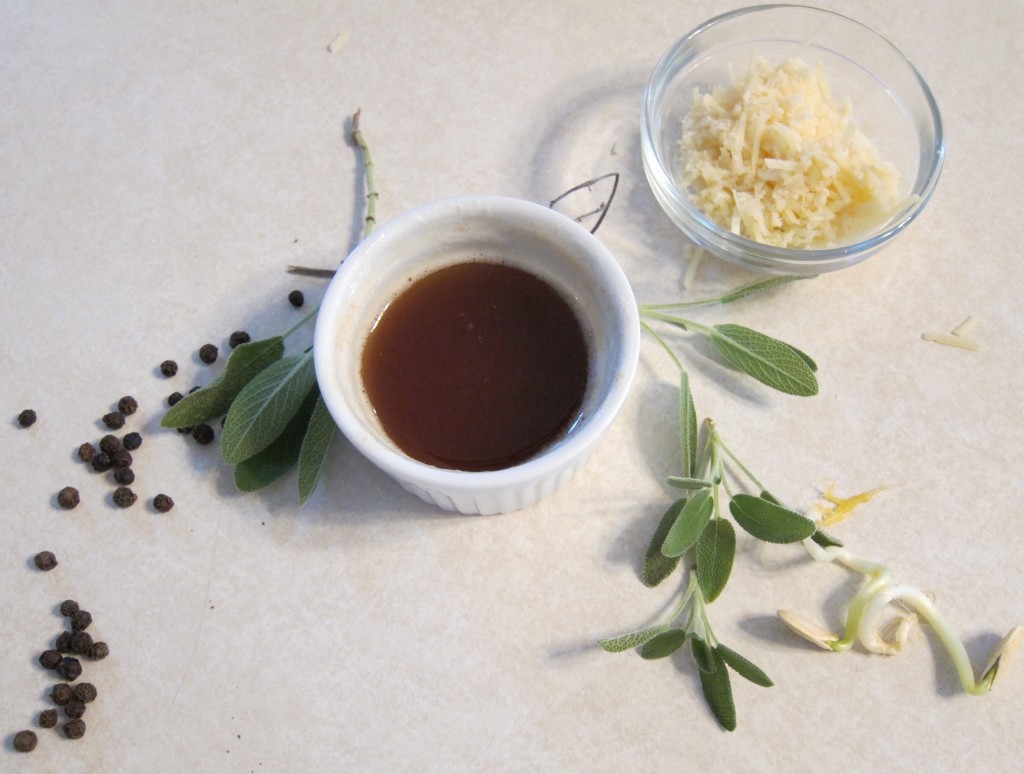 Brown butter and sage spaghetti squash
This basic combination tastes delicious on roasted spaghetti squash.
browned butter
freshly ground black pepper
good quality Parmigiano-Reggiano cheese
fresh baby sage leaves, torn
salt to taste

Lightly butter squash flesh and salt. Roast in moderate heat until cooked through. Drizzle with browned butter and top with salt and pepper to taste. Separate squash tendrils with a fork and sprinkle with Parmigiano-Reggiano and sage leaves.
Spicy sauce for spaghetti squash
I tweaked a sauce recipe featured in our Chicago style pizza blog, to make a flavorful topping that is now my favorite pizza sauce. It works beautifully for pasta and for fire-roasted spaghetti squash with or without meatballs.
3 Tablespoons unsalted butter
1 medium onion, roughly diced
1 teaspoon salt, plus a pinch more
8 garlic cloves, sliced
1 tablespoon dried oregano
1 teaspoon crushed red pepper flakes (halve for a milder flavor)
28-ounce can crushed tomatoes
1/4 teaspoon granulated sugar
Melt butter in pan over medium heat and add onion. Cook until translucent. Add garlic slices, dried oregano and pepper flakes. Cook until garlic is fragrant. Move onion mixture to a blender or food processor and pulse with tomatoes and sugar until it is the consistency you like.
Delicious and healthy
Although Spaghetti squash was cultivated in China and Japan in the early 1900s, it didn't appear in North America until around World War II. At that time, Spaghetti squash was a nutritious substitute for foods difficult to get during the war. Today Spaghetti squash shines as a pasta replacement (with only 10 grams of carbs per cup) and as a delicious stand-alone vegetable with a balanced supply of folate, zinc, potassium and omega 3s.
Social Share