I field all kinds of questions from people considering a wood-burning oven. Many of these have shown up in previous blogs. Several common questions fall into a single category: learning to cook in a wood-fired oven. The good news is that cooking in a wood-fired oven is easier than you'd expect. If you are already confident in your ability to cook without a recipe, you're set. If you're more likely to stick closely to the specifics of each recipe, stay tuned. Some of the techniques that give the confidence to cook without a recipe transfer over to cooking in a wood-burning oven.
Learning to cook without a recipe
It turns out this is a popular topic, not just for wood-fired enthusiasts. Bon Appétit Magazine's website has an entire section with dishes to cook without a recipe. There are endless articles on intuitive cooking, cooking without a book, mastering the basics too cook anything, etc. Daniel Duane's article on the Food and Wine website chronicles one man's conversion form recipe obsession to a new goal: learn to cook without a recipe.
Things to keep in mind and on hand
Being confident in your ability to cook without a recipe or in a wood-fired oven mostly depends on paying attention, being respectful of a few basics, and trusting yourself. Here are a few basics to keep in mind:
Know the safe minimum temperatures for meat and poultry
Master the heat zones in your wood-burning oven
Take advantage of the oven's landing for low, warming heat
Cook like things together
Assume most things will cook faster than you expect
Invest in a good thermometer
Keep basic tools like a paddle and multi-use poker on hand to reposition food and pans
Pay attention to how the food looks, feels, and smells. Think about the size and shape of what you're cooking, and the minimum temperature you need to hit for food safety. Then, trust yourself to recognize when food is done. We love our First-fire service because it's a great chance to see Dave in action managing the fire and heat zones, making an array of foods. It's fun to see his relaxed approach to making delicious food without stressing over a recipe.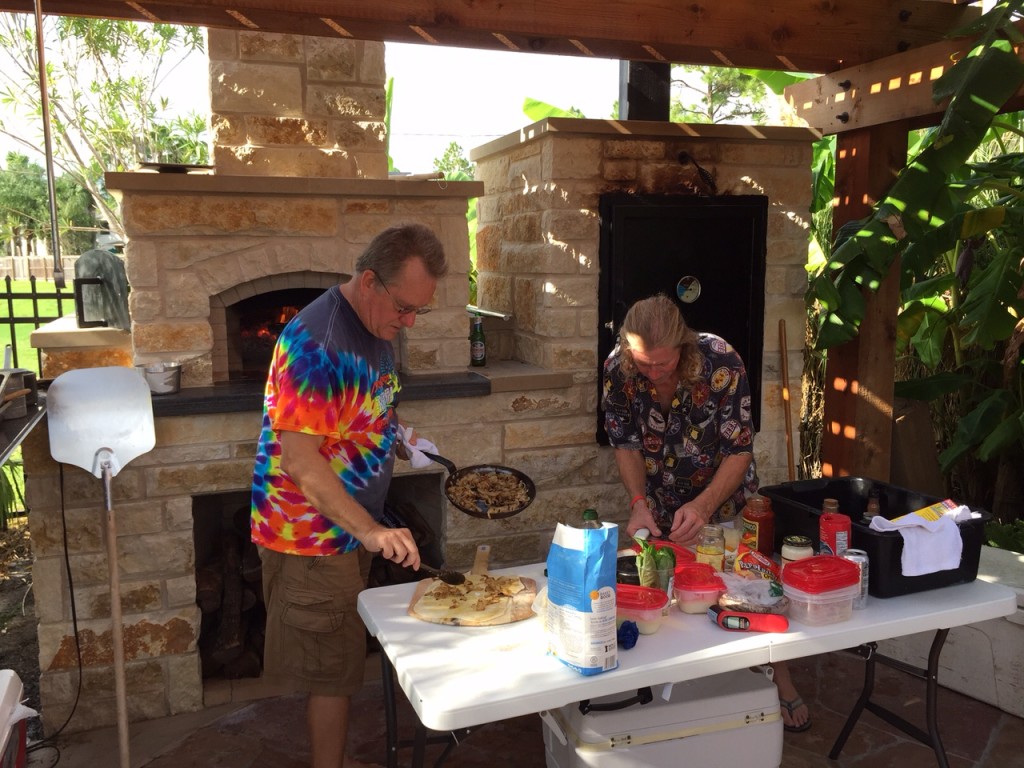 What it looks like in action
Here's an easy example. This recipe for roasted cauliflower with cumin and cilantro from Food52 starts by having you preheat your oven to 425°. This makes sense because cruciferous veggies like cauliflower get a flavor upgrade when roasted at high heat. That makes this a great dish to cook without a recipe in your wood-burning oven. If you have a fire going in your oven, there will be a heat zone around that 425° mark. With most things, cooking at a slightly higher or lower temperature won't make a huge difference. Just be prepared to stir the food in your pan, and rotate or reposition the pan depending on the intensity of the fire.
To create a dish inspired by the Food52 cauliflower, just toss the cauliflower florets in a drizzle of olive oil with plenty of salt and a bit of cumin. Slide your pan in to a fairly hot roasting zone near and open fire, and use tongs or bubble popper to stir the cauliflower occasionally. Check it periodically when it starts looking golden brown. If the outside looks great but the inside needs more time, move the pan to a cooler zone (like near the throat of the oven) to let it continue cooking without picking up any more color. If the inside is great but you want a little bit more color or a touch of char, push the pan toward the fire and stand by.
Cooking efficiency
In a wood-burning oven you not only have multiple heating zones, you also have incredible cooking efficiency. Wood-burning ovens cook food using convection, conduction and radiant heat transfer. That means most food will cook more quickly. Even if you're following a recipe, pay attention to how the food looks (and check internal temperatures of meats) because it is likely to cook quickly.
 
Easy example: Alton Brown's iconic baked potatoes
Normally, I bake potatoes on the down-cycle of my wood-burning oven. The low heat works beautifully to create creamy soft interiors with zero monitoring. On the other hand, it's pretty hard to beat Alton Brown's famous baked potatoes. Their crisp, salty skins encasing a buttery interior would make anyone a believer.
Before I had a wood-burning oven, we made these in our conventional oven fairly regularly. This is a great recipe to turn into a non-recipe because their success doesn't rely on finicky chemical reactions triggered at specific temperatures.
AB oils the skins of the potatoes and salts them. This is brilliant on multiple levels. It gets salt on the potatoes early in the cooking process (always a good thing with starches). On top of that, it creates a crisp exterior texture. Finally, tossing the oiled potatoes in salt creates rough little abrasions on the surface that maximize surface area, which just means you get the best possible crispiness. The folks at Cook's Illustrated demonstrated how effective this "roughening" of the surface area is in their review which we borrowed for our blog on roasting potatoes.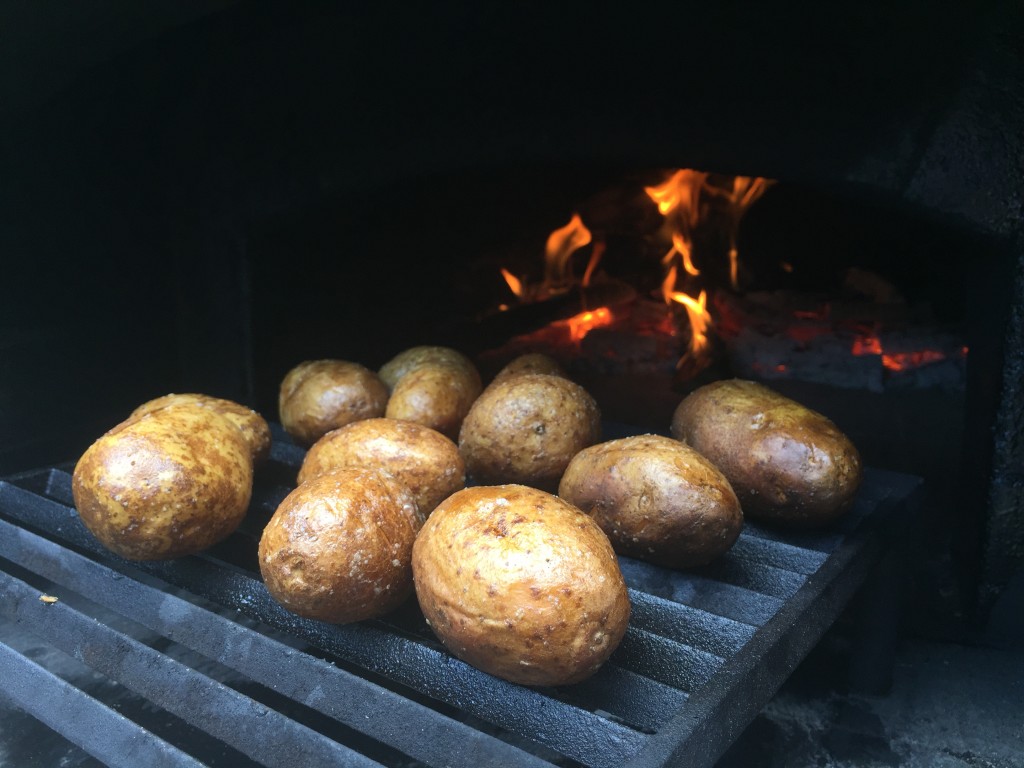 To recreate AB's iconic potatoes in your wood-burning oven, don't worry too much about quantities, but copy the oil + salt technique. After that, you just need the potato to cook all the way through. One way to approach this is to cook them on a Tuscan grill with a live fire, rotating the potato position and keeping the grill in a low to medium cooking zone. Another approach would be to initially wrap the potatoes, cook them in a cooler zone and unwrap them and move them into a higher heat zone just long enough to crisp the skins.
The approach I used was to close the oven door to snuff out the fire and let the potatoes cook in a moderately low temperature oven. When the interiors felt soft when i poked them with a fork, I left the door off, let the fire rekindle and the salty exteriors quickly crisped.
Regardless of the approach you pick, all you really need to do is keep the temperature low part of the time and high part of the time, regardless of which comes first these crisp exteriors and creamy interiors are fantastic. No wonder there are nearly 4 million Google results for AB's potatoes!
Confidence to cook without a recipe
When people ask for a cookbook recommendation for using a wood-burning oven, we usually recommend one (see our blog on this topic) but beyond learning the heat zones in your oven, the best way to expand what you cook in your wood-fired oven is to read a book like How to Cook Without a Book: Recipes and Techniques Every Cook Should Know by Pam Anderson. Years ago a friend of mine recommended this. He had set a goal of learning how to cook without a recipe and found Anderson's approach helpful. Her chapters on weeknight stir-fries, meals built around sautéing, and dishes that start by searing meat all translate beautifully to cooking in a wood-burning oven.
Social Share