It's time to master the best homemade gyro. Nothing is quite as summery and spectacular as a gyro—great wood-fired pita, wood-fired meat with crisped edges, fresh vegetables, and creamy tzatziki sauce for a lively contrast.
Heat advantage for pita bread
I say making gyros is a no-brainer for owners of wood-fired ovens because the key ingredients for the best homemade gyro get both a technical and flavor advantage by being cooked over wood.
Making high-heat breads like pita is a pursuit that brings people in touch with wood-fired baking.
In fact, most recipes for homemade pitas emphasize the need for scorchingly hot heat and for using a pizza stone, preheated in the oven for as long as possible. Like authentic pizza, authentic pita baking puts you on a collision course with owning (or at least dreaming of) a wood-fired oven.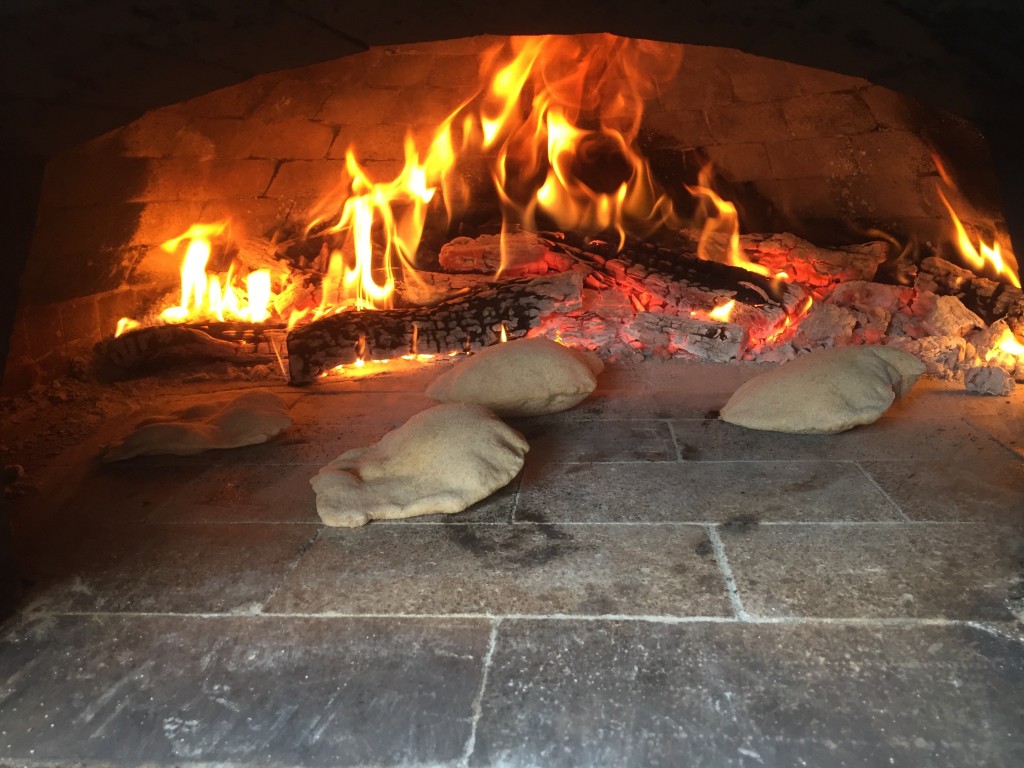 Experts insist that generating a pocket in the bread requires lots of heat.
A very hot oven is a must in order to get that quick burst of steam inside. If the oven temperature is too low, steam won't puff the pitas, and you'll end up with duds. SE
I recently made a batch using sprouted whole wheat flour, and it was delicious. Sprouted wheat flour has become a favorite of mine. It delivers some of the benefits of home-ground flour. Despite being 100% whole wheat, sprouted wheat performs much like all purpose flour. It can be substituted for AP without the usual adjustments required to make 100% whole wheat doughs work.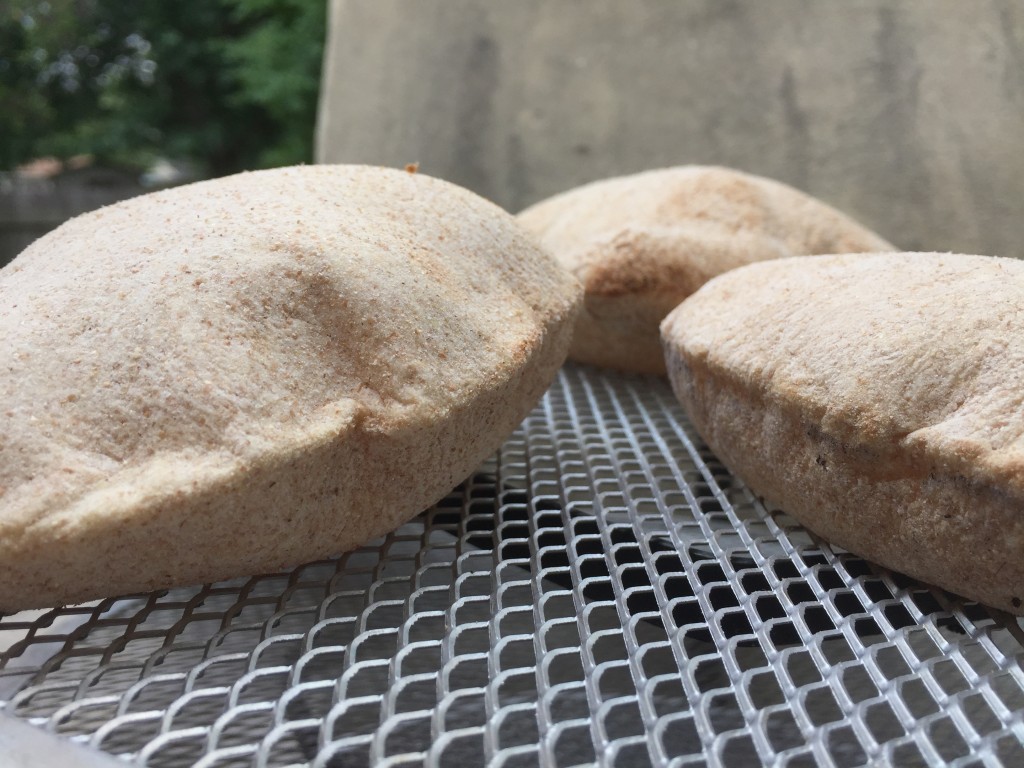 I appreciate Deb Perleman's explanation and recipe for making pita. Pick any of the recipes and make some pita. You will be amazed with the taste of homemade pita, touched with wood-fired flavor.
Easy entertaining
Making gyros is an easy way to entertain. Most of the preparation is done in advance so you are free to do the fun part—firing up the oven, roasting sides, baking the perfect-pocket pitas and crisping the meat. For party-hosting tips in general, see our blog on tips for throwing a great wood-fired party. For gyros, I do the meat, veggies, and tzatziki sauce in advance of a party, so the guests have the fun of baking their own dough and watching it puff. When your guests want to know the how and why of puffing pita, I paraphrase the following explanation from Serious Eats.
"When a thin disk of pita dough is placed on a hot surface in the oven, two things start to happen. First, the intense heat starts to dry and set the dough on the top and bottom. At the same time, it begins to turn moisture in the center of the pita to a blast of steam. When enough steam is generated, it builds pressure, pushing the pita out from the center and inflating it. Because the exterior has already started to set, though, it's strong enough to resist rupturing, keeping that steam bubble trapped within."
Best homemade gyro meat
My search for best homemade gyro meat brought me back to the wood-fired oven. I was excited to see the update Serious Eats recently recommended to my old favorite recipe by Alton Brown. One of their "hacks" was a technique for mimicking the crispiness restaurants get with a vertical rotisserie. It just so happens that a wood-fired oven makes that easy.
The SE Food Lab article is worth a read for anyone interested in the science behind the best homemade gyro. They tested and explained the how, when, and why of getting the gyro meat right. I also liked the part beef, part lamb recipe from Serious Eats. But in their recipe, I missed some of the spices in Alton Brown's version. I've now split the difference keeping the technique from Serious Eats, most of their streamlining in terms of seasonings, but bringing back the rosemary and marjoram they had omitted from AB's classic.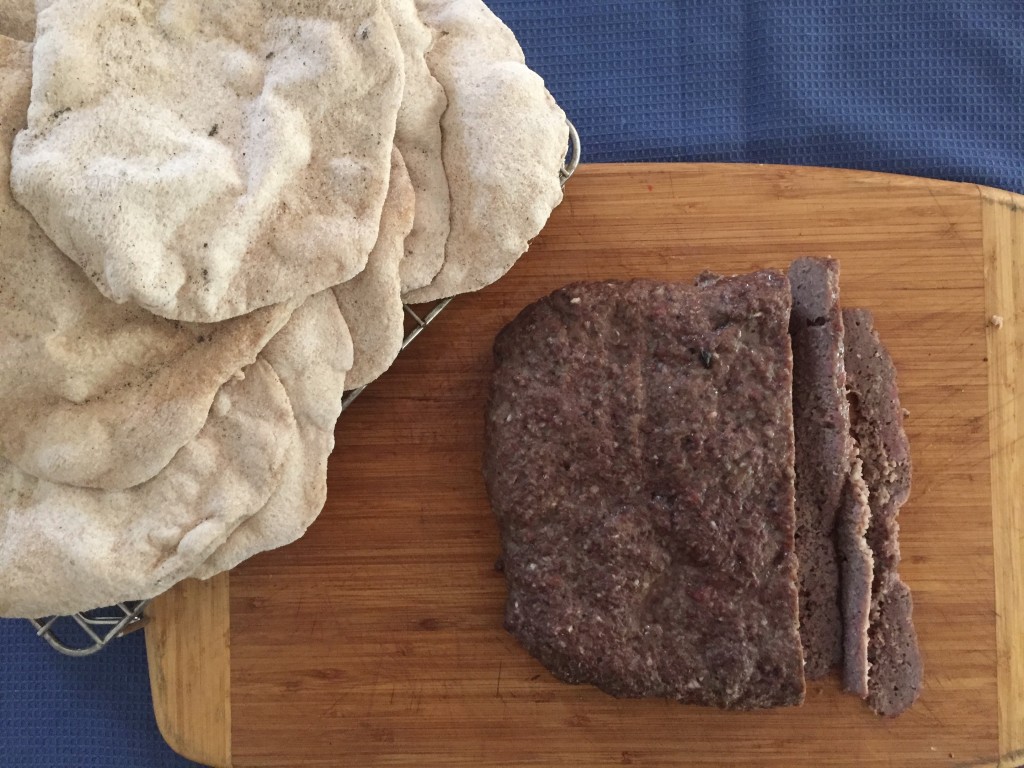 Now with the wood-fired advantage of doing the final broil in the perfect cooking environment, the meat has that vertical-rotisserie crispiness that adds the distinguishing touch.  It's a fantastic homemade gyro meat that looks, feels, and tastes like what you'd buy in a Greek restaurant. If you want to do the initial low-heat roast in your wood-fired oven, use the technique we covered in using your oven as a smoker, or use down-cycle heat a day or two after a high-heat fire.
Gyro meat technique
This combines the Greek-American Lamb Gyros Recipe from Serious Eats and the flavor profile from Alton Brown's Good Eats Gyro. I left out the SE bacon and added back the AB rosemary and marjoram.
Key technique for the best homemade gyro meat: think of it like you're making a square sausage.
Mix the meat and spices and chill the mixture at least an hour.
Process the very cold gyro meat in a food processor and then shape it into a flat loaf.
Remember, the height of the loaf will determine the width of your final meat slices.
Roast the meat at 300° until it is 155°, cool and slice. (At this point it can be refrigerated overnight.)
Crisp the edges before serving to achieve the elusive vertical-rotisserie texture.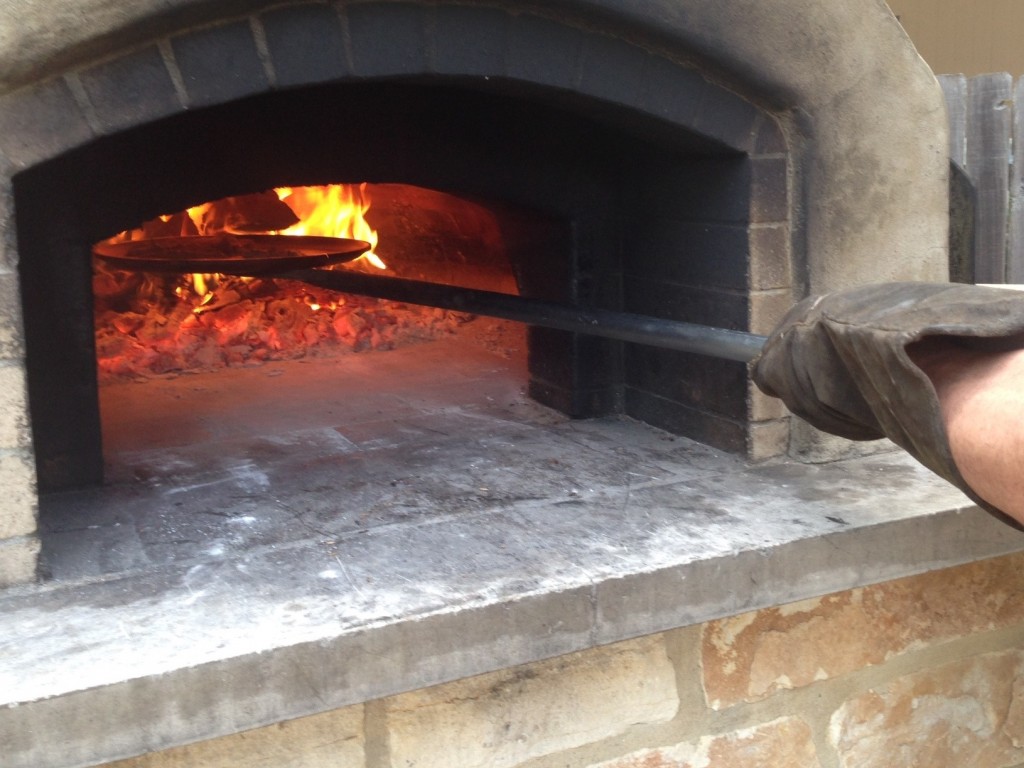 Gyro meat Ingredients
1 pound ground meat (half 85% lean beef, and half lamb)
2 teaspoons kosher salt (or 1 teaspoon table salt)
1/2 teaspoon freshly ground black pepper
1/2 teaspoon dried oregano
1/2 teaspoon dried rosemary
1/2 teaspoon ground marjoram
1/2 onion, cut into 1-inch chunks
1 clove garlic, sliced

Tzatziki style sauce critical element
The best homemade gyro depends on  the meat and the sauce.  The sauce and the meat are fat sources, and fat makes food taste good and feel satisfying. (Haven't you noticed that low-fat versions of foods are disappointing and leave you wanting something more?) You don't eat as much if there is enough fat to guarantee flavor and satiety.
Good Tzatziki provides a pleasing element. Its cool, creamy texture contrasts with hot, crispy-edged meat and crunchy vegetables. In fact, good tzatziki sauce by itself will convince you that almost anything you serve with it is "Greek American food." It is a great compliment to traditional American favorites like  fritters, salads, or nearly anything that needs a good dip.
Some Tzatziki recipes include mint. I like the simple version here, especially with a mint garnish.
For a tasty twist I experienced in Paris, add some crispy curly fries before adding tzatziki. See our roasted potatoes blog, for great gyro toppers.
Timeline for best homemade gyro party
2 days before:
Drain the yogurt for Tzatziki sauce.
Combine gyro meat ingredients and refrigerate overnight.
The day before:
Make the Tzatziki sauce and refrigerate.
Make the pita dough and refrigerate overnight for cold ferment.
Process and roast the meat. Let the meat cool, then slice and refrigerate it overnight.
Optionally, you can par-bake pita at this time if you are serving a crowd.
The day of your party:
Light a fire in your wood oven.
Take pita out of the refrigerator and prep veggies like tomato, red onion, and cucumbers.
Roast the potato curly fires if you're making them. (Or roast them as you bake the pita.)
Warm the gyro meat in the low heat in front of the oven, then crisp the edges closer to the fire or by holding it close to the top of the vault as you would to broil the top of a pizza as you take it out of the oven.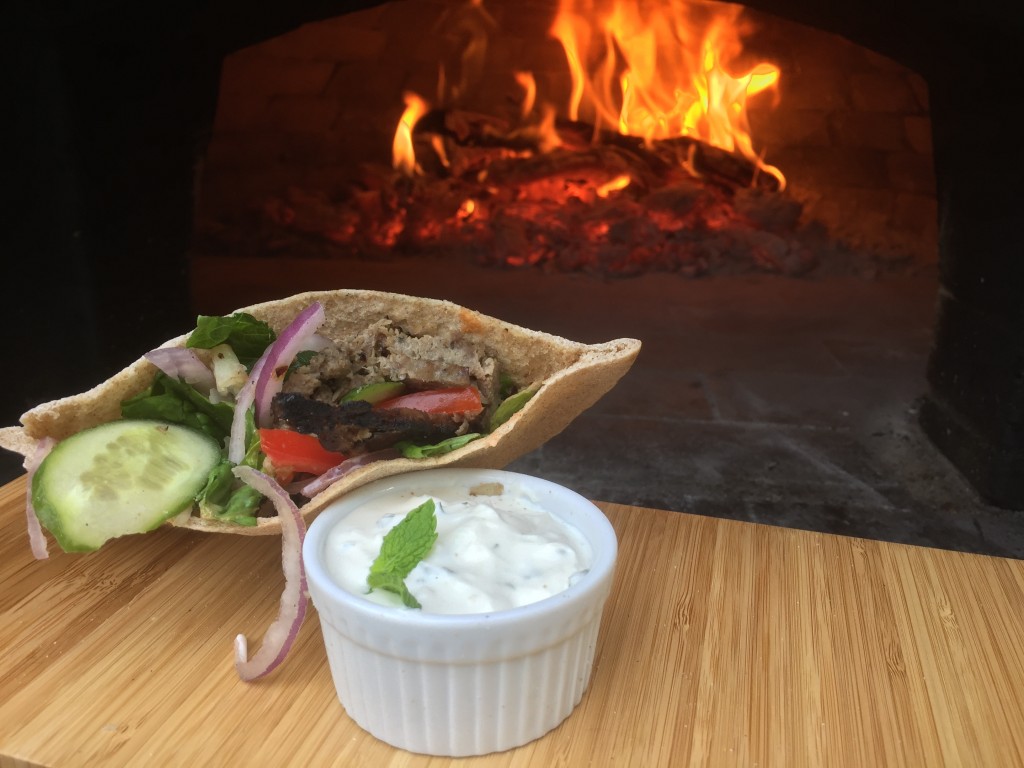 Social Share